In March 2019, two customers from Nigeria visited Doing Company for the second time. The purpose of his visit this time was to inspect and buy our cassava chipper machine.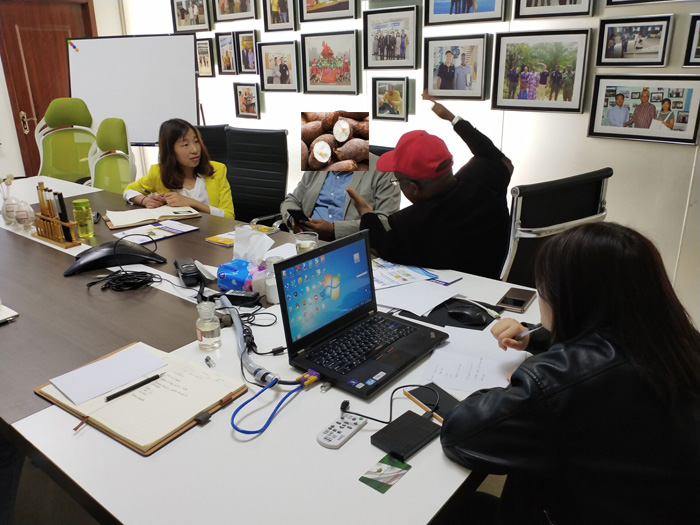 Nigerian customers came to DOING for buying cassava chipper machine
These two customers contacted us through our website in October 2018. In the process of contacting, our sales manager provided him with the pictures and running videos of our cassava chipper machine, as well as our factory videos through whatsapp and email. They ware satisfied with our equipment and company strength, so he decided to visit our company.
They arrived at our company in December 2018, and they stayed here for two days. On the first day, they talked about the equipment details with our sales manager and engineer. Our engineer explained the working principle and other detail information to him. They learned that the produced cassava chips thickness by our cassava chipper machine is generally 10-25 mm, but it can be adjusted or customized. Considering their actual demand, they hoped that our engineer can design a cassava chipper machine with a thickness of 3 cm for them. As an experienced engineer, our engineer said yes to them, and they were very satisfied. The next day, they came to our factory to inspect the equipment manufacturing strength of our factory. After seeing our professional equipment manufacturing team and the equipment prototype in the factory, they also confirmed our strength.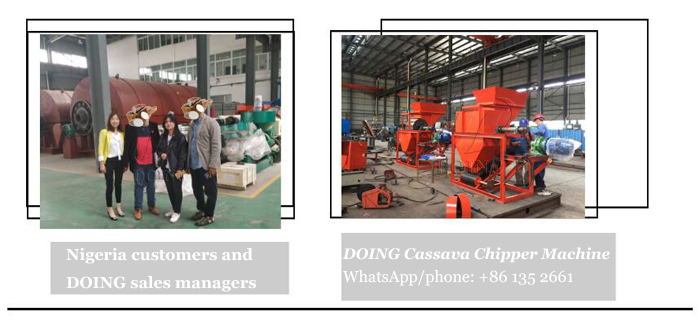 Customers visit our factory and inspect our equipment
After a period of comparative inspection of different equipment manufacturers, this Nigerian customers finally chose us and decided to visit us for the second time to buy our cassava chipper machine. They arrived at China in March 2019, at this time, the cassava chipper machine we designed for the customers has been manufactured, so the customers went directly to our factory to look at the equipment.
In order to let customers see the effect of our cassava chipper machine, we bought some sweet potatoes near the factory to test this machine. After seeing the effect, they ware satisfied and signed a contract with us directly.
After the receiving the customers deposit, our factory began to design and manufacture the cassava chipper machine. The follow-up equipment shipment news will be updated later.