Garri processing machine is mainly used to process cassava into garri, which mainly includes dry sieve, paddle washer, cassava peeler, cassava grater, hydraulic pressure, garri fryer and garri sieving machine.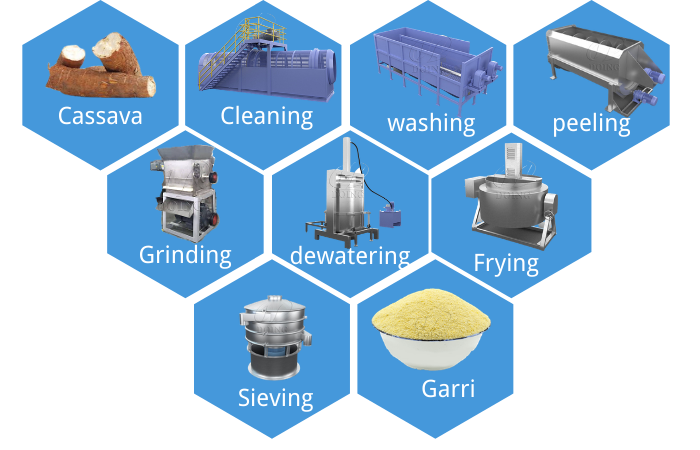 Garri processing machine
Garri processing machine and production process simple introduction:
To processing garri from cassava tubers: 1. Cleaning and washing the cassava tubers 2. Cassava peeling 3. Grating cassava into mash/pulp 4. Put the cassava mash into bags or tanks for fermentation 5. Press to dewatering to get cassava mash cake 6. Breaking up the cakes and frying to get garri products 7. Garri sieving to get uniform fineness 8. Packing for sale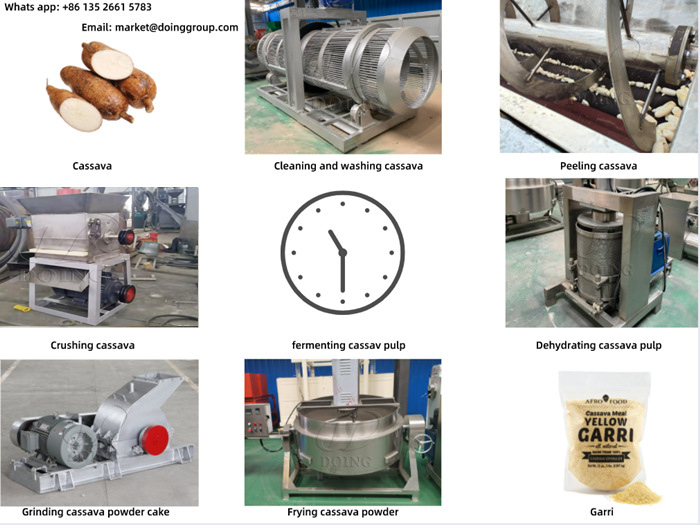 Garri processing line
The detatil introduction of garri processing machines:
1. Dry sieve: A dry sieve is adopted to clean cassava tubers, which adopts multiple inner spirals design to push cassava tubers moving forward. During the rotation of dry sieve, impurities fall from the gap, thus all solid impurities, like cassava leaves, weeds, stones, clods, cassava roots and parts of the peel are removed. A spray water system can be added to the tail of the garri processing machine to make the cassava more clean.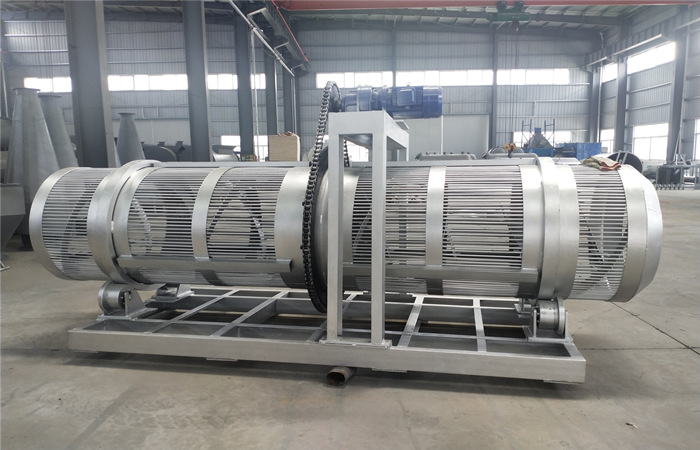 Cassava cleaner
2. Paddle washer: Paddle washer is a garri processing machine adopts countercurrent washing method to wash away the residue impurities on cassava. According to your demand on processing capacity, DOING engineer can design single slot or double slot cassava washer for you.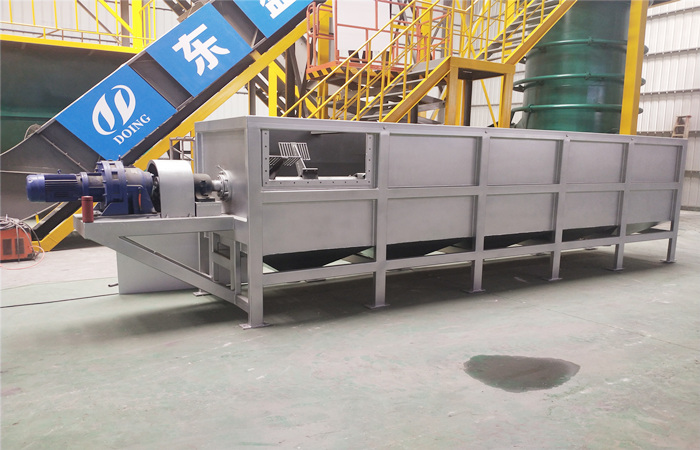 Cassava washer
3. Cassava peeling machine: Doing Company's cassava peeling machine can adjust the revolving speed of pushing screw according to the difference of cassava tubers size, which changes cassava tubers friction time on sand-roller to achieve supposed peeling effect. This garri processing machine can continuously and automatic peel cassava tubers. High peeling effect, better quality which is good for improving final product quality.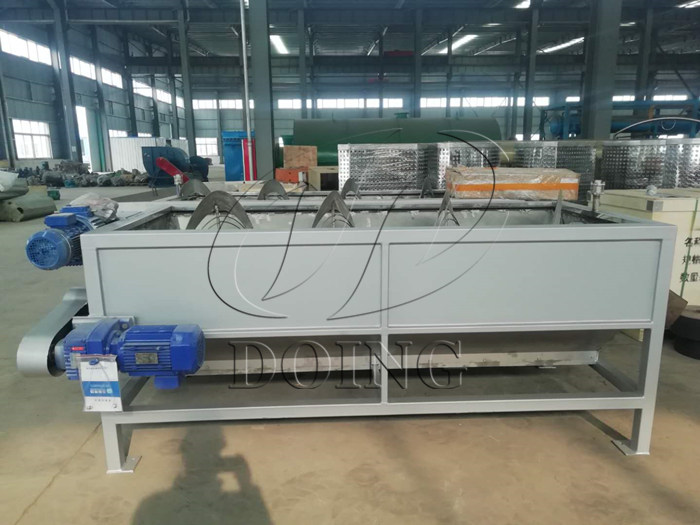 Cassava peeler
4. Cassava grating machine: This garri processing machine is mainly used for grating cassava, and it is also named liquid-mash separator. On the one hand, it can separate the cassava mash and liquid directly, then the cassava mash can be directly bagged for fermentation, improve the production efficiency. On the other hand, due to the special design of the structure of our cassava grating machine, the fibers are not separate out after grating, which is more conducive for cassava mash fermentation, and can guarantee the crisp taste of the produced garri.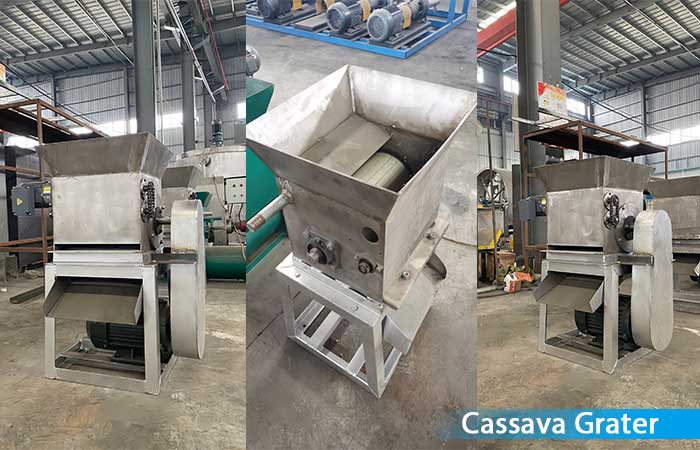 Cassava grater
5. Hydraulic press: Pressing the fermented cassava mash is the commonly used dewatering method, Doing Company's hydraulic press also adopts the same method for cassava mash dewatering. But this garri processing machine is automatic, so it's more fast than manual working, which can also guarantee the uniformity of dewatering.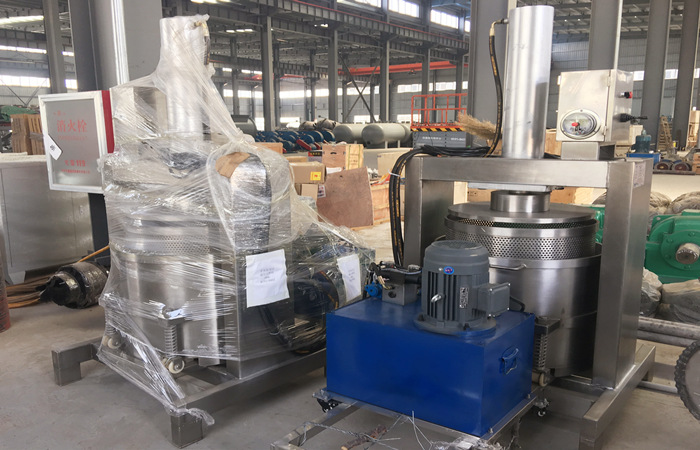 Hydraulic press
6. Garri fryer: DOING garri fryer is made by full stainless steel. This garri processing machine is a flat pot, which can achieve automatic mixing, even heating, and no paste phenomenon during running of garri fryer. When frying, the stirring device is opened to uniformly fry the material and break wet cassava cakes as well. After frying is finished, turn the handle on the right side to tilt the pot and complete quick unloading of garri. Besides, there is one control box installed in each garri fryer for workers' easier control running of equipment.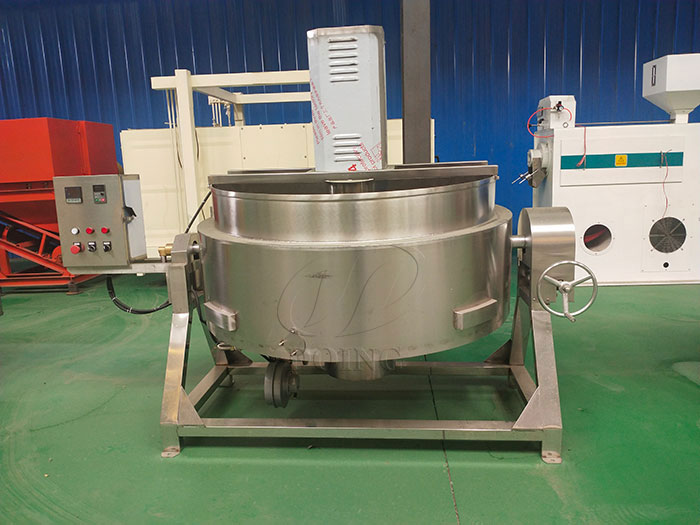 Garri fryer
7. Vibration sieve: It's a automatic sieving machine with high efficiency. In order to make the fineness of the produced garri more uniform and get high quality products, vibration sieve now also became a essential garri processing machine for making high quality garri.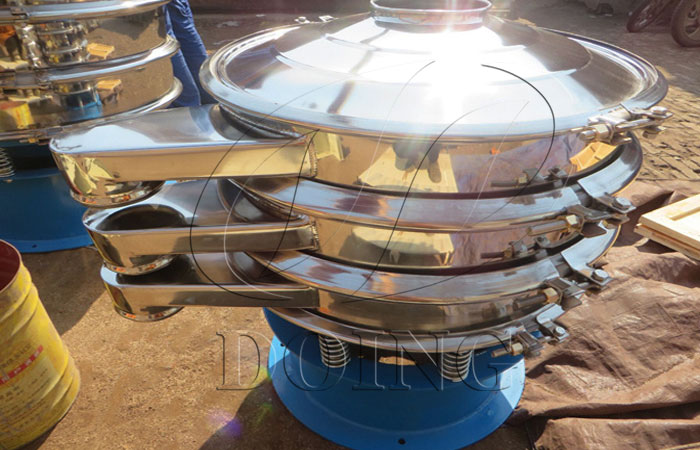 Vibration sieve
8. Garri packaging machine: Finally, a semi-automatic packaging machine is used to pack the produced garri into 25kg to 50kg per bag for storage.
Garri processing machine manufactured by Doing Company can ensure the produced garri products superior in quality and high in yield. And we can design and customize garri processing machines in different configuration based on your situation and requests. If you want to start garri processing business, please leave us a message.