Cassava starch processing machine is mainly used for extract starch from cassava. These machines firstly clean the attached impurities of cassava, then grate cassava into pulp, and then separate fibers, protein and other impurities in cassava pulp to get pure starch, and finally dewater and dry starch to get desired quality cassava starch.
The complete set of cassava starch processing machine includes dry sieve, paddle washer, cutting machine, rasper, centrifuge sieve, fine fiber sieve, desander, hydrocyclone station, peeler centrifuge and flash dryer.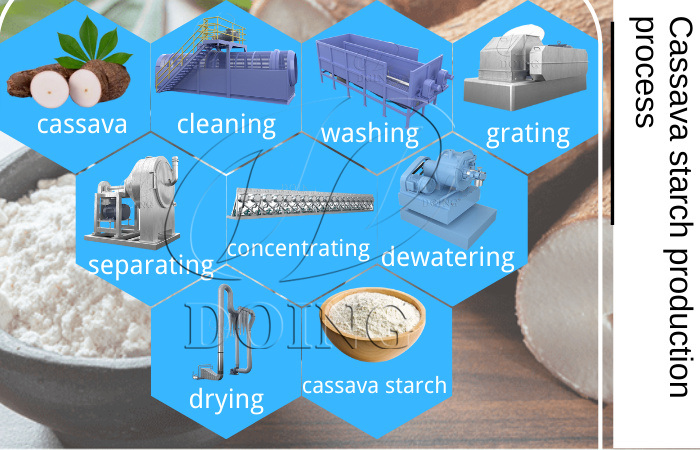 Cassava starch production line
Here are the introduction of cassava starch processing machine and their functions:
(1) Dry sieve:
Function: To clean cassava. Dry sieve is firstly used to remove impurities from harvest cassava tubers, like stems and leafs, dirt, sand, weeds, stones, roots on cassava tubers surface. During dry sieve working, no water is needed. And add this cassava starch processing machine as the first stage of cassava cleaning can save water consume in cassava processing plant.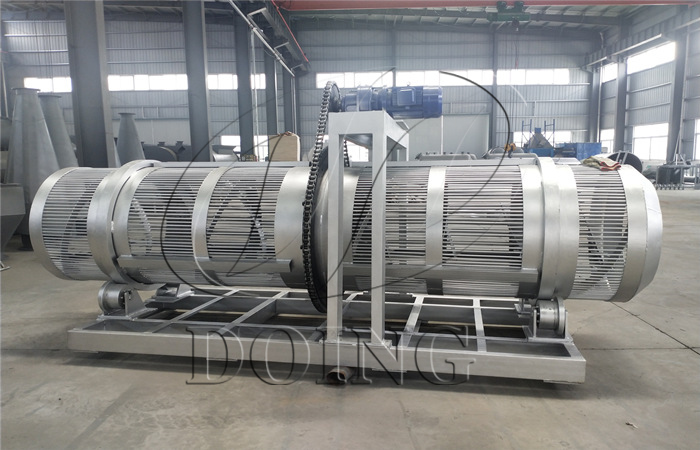 Dry sieve
(2) Paddle washer:
Function: To further wash cassava. After cleaning, the paddle washer is adopted to remove mud, peel and other impurities from cassava tubers, and water is required. This cassava starch processing machine adopts countercurrent washing principle, by the effect of paddle rotating, cassava tubers flows in the converse direction against water, which makes washing completely and eliminate sand and mud effectively.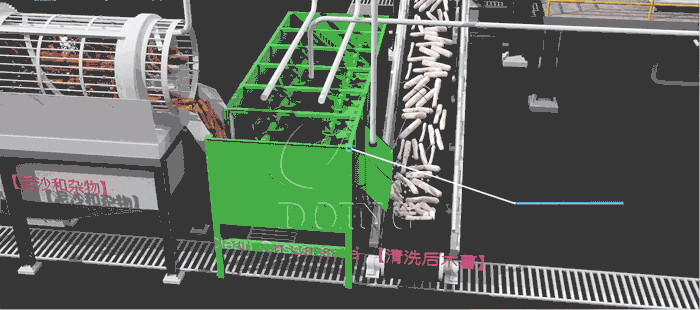 Paddle washer
(3) Cutting machine:
Function: To cut cassava tubers into small pieces. Cassava tubers usually large and irregular in shape. Therefore, in the production process of the cassava starch processing machine, the cassava tubers should be cut into small pieces with the cutting machine, and then for further crushing, which can not only reduce the pressure of the rasper, but also is conducive to the full crushing of cassava.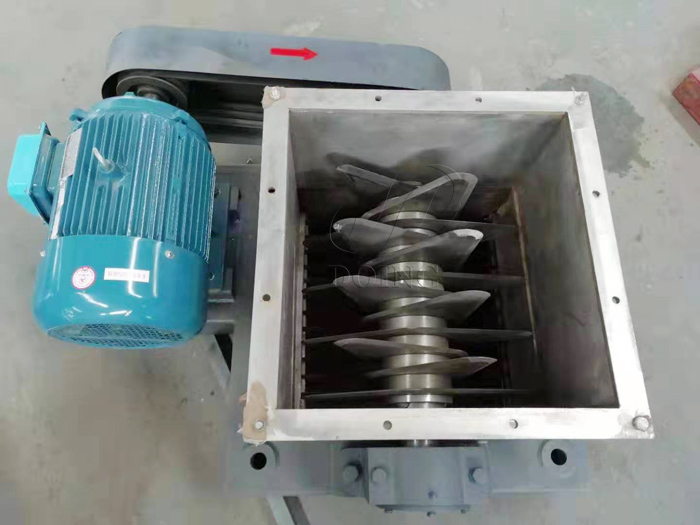 Cutting machine
(4) Rasper:
Function: For fully crushing. Rasper is a high efficient cassava grater which can fully destroy the cassava structure, so that the tiny starch granules can be disintegrated and separated from the cassava tubers. With water as medium, this cassava starch processing machine can fully crush cassava into pulp by relying on high-speed rotating. This is the most advanced cassava grater whose crushing rate is more than 94%. And the grated starch slurry can passes through the 1.2-1.4 mm mesh.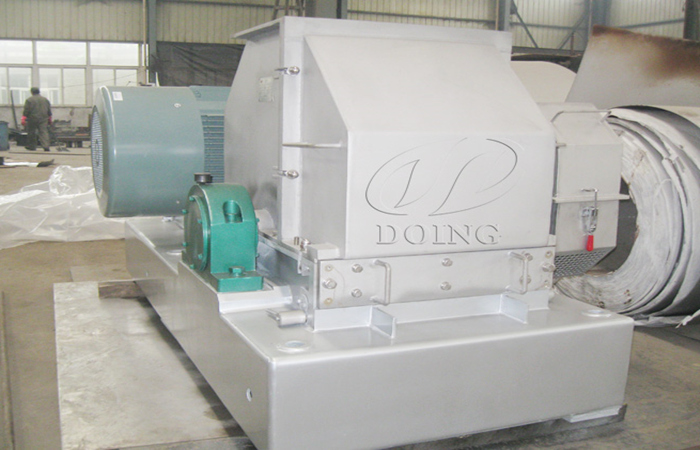 Rasper
(5) Centrifuge sieve & Fine fiber sieve:
Function: To separate fibers from starch slurry. The crushed starch slurry need to be sieved in this step to separate fibers from starch slurry. The large fibers are removed by using centrifugal sieve and fine fibers are further removed by fine fiber sieve. These two cassava starch processing machines are mainly to achieve the purpose of separating and purifying of the starch. Multiple separation and countercurrent washing processes are commonly employed, and after separation, the fiber impurities content of the starch slurry is less than 0.05%.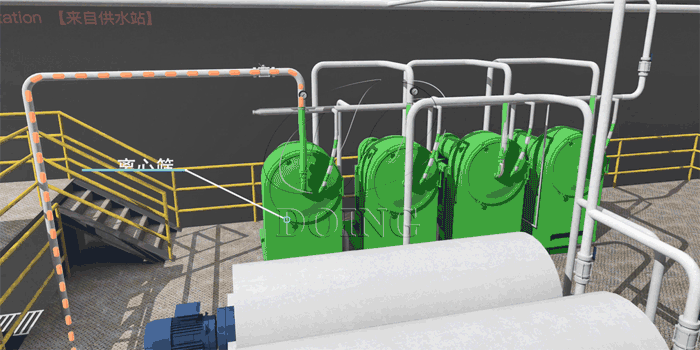 Centrifuge sieve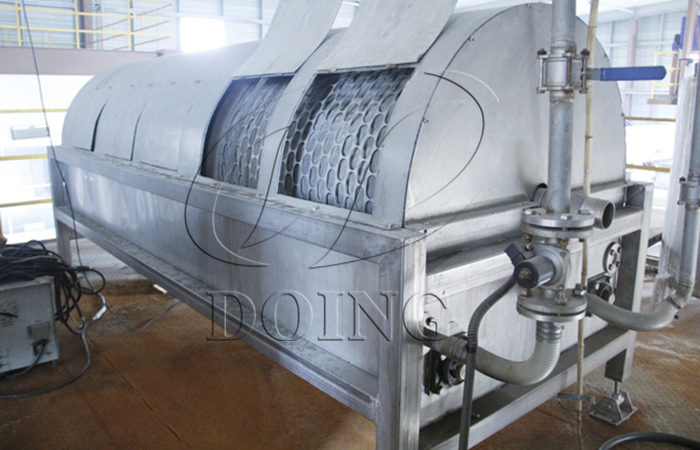 Fine fiber sieve
(6) Desander:
Function: To remove sand in starch slurry to improve starch taste. According to the principle of gravity separation, the starch slurry is pumped into the cyclone by a pressure pump, where the bottom stream removes sand while starch slurry flows through the top to achieve the purpose of sand removal.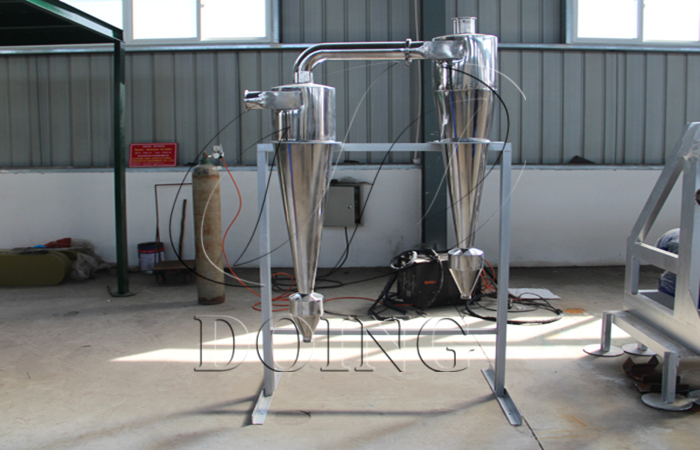 Desander
(7) Hydrocyclone:
Function: To wash, concentrate and refine starch slurry. The adopted cassava starch processing machine in this step is hydrocyclone system, which mainly separates the insoluble protein and residual soluble protein and other impurities so that the obtained starch slurry is pure. It separates impurities by taking using of the different specific gravity of water, starch and yellow pulp protein. DOING uses a 12-stage hydrocyclone system to achieve the function of washing, refining and concentrating of starch slurry. The produced liquid after this process is called starch milk, which is pure and white.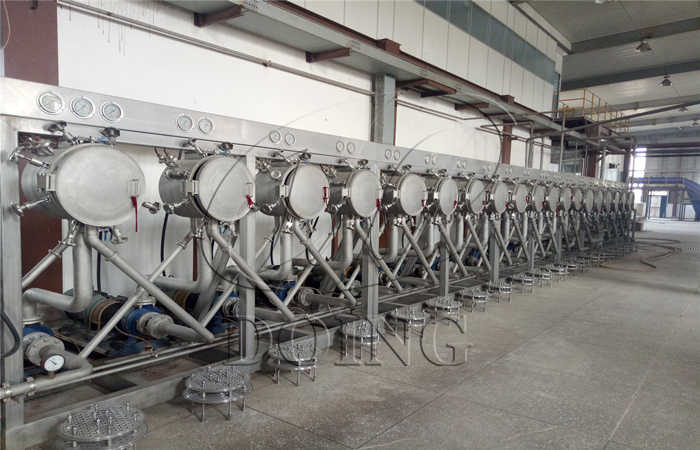 Hydrocyclone station
(8) Peeler centrifuge:
Function: To dewater starch milk to faciliate drying. The starch millk is dewatered to achieve the required moisture content (less than 40%) for drying, and the water content of the cassava starch can reach 36.5% after dewatering by DOING peeler centrifuge.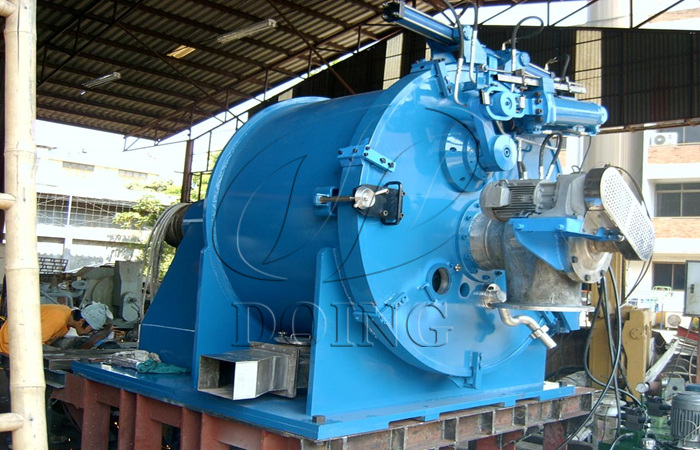 Peeler centrifuge
(9) Flash dryer:
Function: To dry starch to meet international standard. The wet material enters the drying pipe from the powder feeding machine, where it will mix with the heated high speed fresh air. In the drying pipe of the cassava starch processing machine, the high speed hot air will dry starch to required moisture by heat exchange. And the produced cassava starch moisture content is 10%-14%.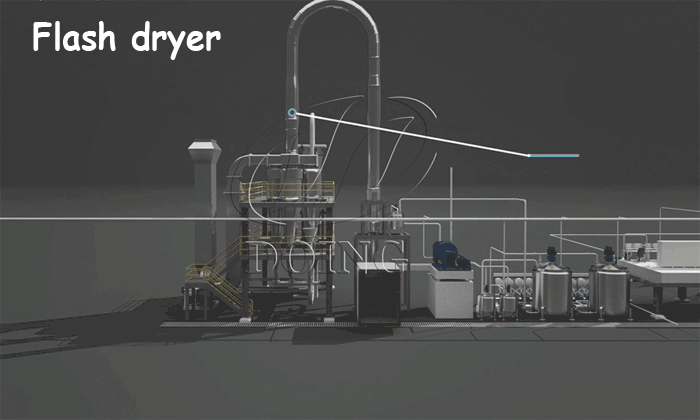 Flash dryer
DOING cassava starch processing machine features:
Doing Company manufactured complete cassava starch processing machine can automatically complete the whole process of cleaning, crushing, separation, purification, concentration and refining, dewater, drying and packaging. The production line has the following characteristics:
(1) High automatic degree, these machines can automaticlly complete the entire production process from cassava tubers into cleaning to finished dry starch production, the labor intensity is small.
(2) The material of the cassava starch processing machine is mainly made of stainless steel to ensure a hygiene environment and prevent starch from pollution.
(3) High yield and high quality, adopts international processing technology and equipment, starch extraction rate is high, starch yield is high, and meanwhile the finished dry starch has higher quality.
(4) Short processing time, processing from cassava tubers into starch just 10-15 minutes.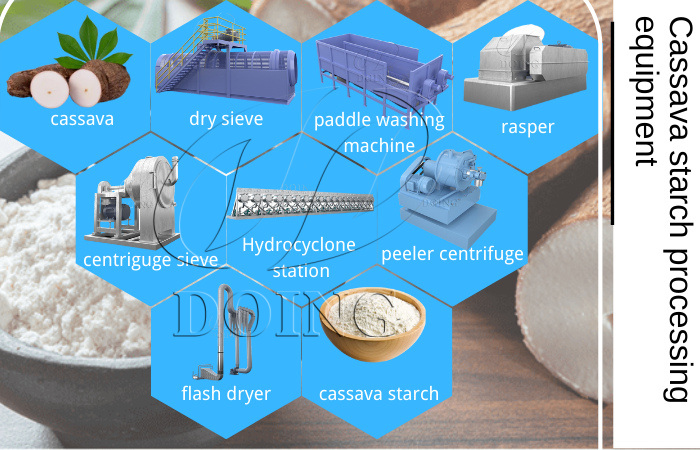 Cassava starch processing machine
Doing Company are professional starch processing machine manufacturer, and our starch processing equipment engineer has more than 30 years of experience. We can provide cassava starch processing machine of different production scale: such as cassava starch output per day of 12 tons, 20 tons, 30 tons, 50 tons, 100 tons, etc. If you want to buy cassava starch processing machine or start cassava starch project, welcome to contact us. DOING engineer can provide you not only with detailed cassava starch processing machine list, but also provide equipment customize service, factory planning, technical support and the like according to your demand.