Modified cassava flour (Mocaf) is a product derived from cassava that uses a principle of modifying cassava in fermentation, which produces distinctive characteristics, so it can be used as a food ingredient. Compared with normal cassava flour, modified cassava flour can larger replace wheat flour for various of food making. Preliminary experimental results showed that mocaf could be used as raw materials from a variety of foods, ranging from noodles, bakery, cookies and semi-moist food, since the application has a similar to wheat flour, rice and other starchy materials. The advantages of mocaf is that its aroma and flavor is better than regular cassava flour, and it is whiter, finer and contains less fiber. In addition, it has relatively low prices compared with wheat flour or rice flour.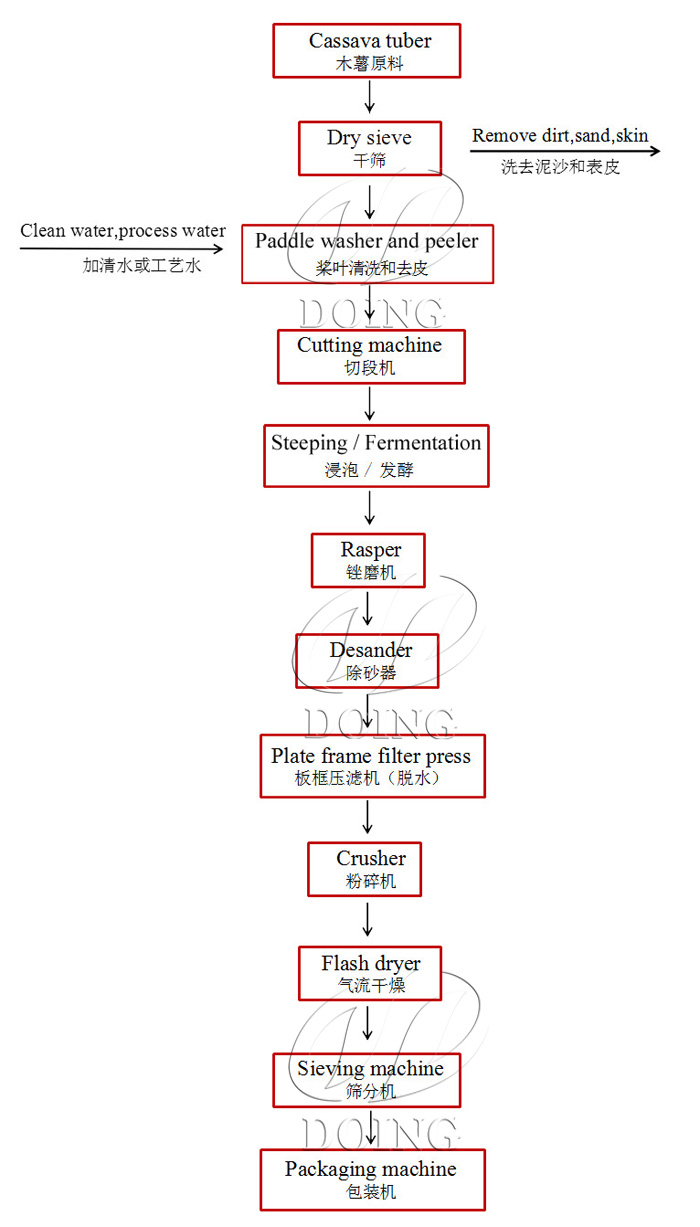 Modified cassava flour processing flow chart
Traditional manual modified cassava flour(Mocaf) processing is:
Manual cassava peeling and washing - cut into chips - steeping in water for fermentation - fermented cassava chips crushing and sieving to separate fiber - press dewatering - naturally drying - milling - modified cassava flour(Mocaf)
But we all know, the manual processing is difficult to achieve large capacity processing, and the produced Mocaf's quality is also not stable. China Henan Doing Company as a professional cassava processing machines manufacturer, our engineers already combined the manual Mocaf processing designed a modern automatic Mocaf technical process, adopted machines all is reliable. Below is the technical process and the modified cassava flour processing machine introduction: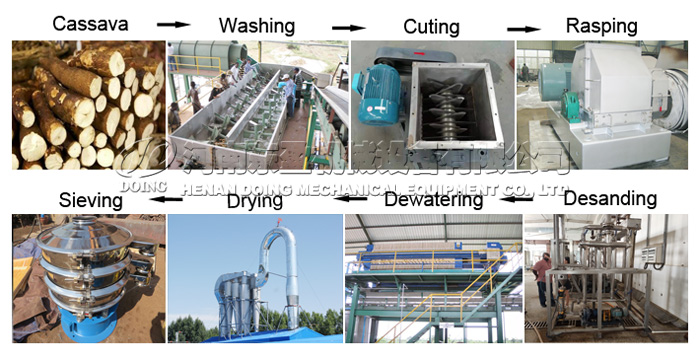 Modified cassava flour processing machine
The firstly used modified cassava flour processing machine includes cassava cleaning and washing machine. Dry sieve is used to remove dirt, sand and stones or any other impurities which is mixed with harvested cassava tubers. Then use a paddle washer to further washing cassava tubers to remove the sediment and impurities on the surface of cassava, at the same time, peel skins from cassava tubers.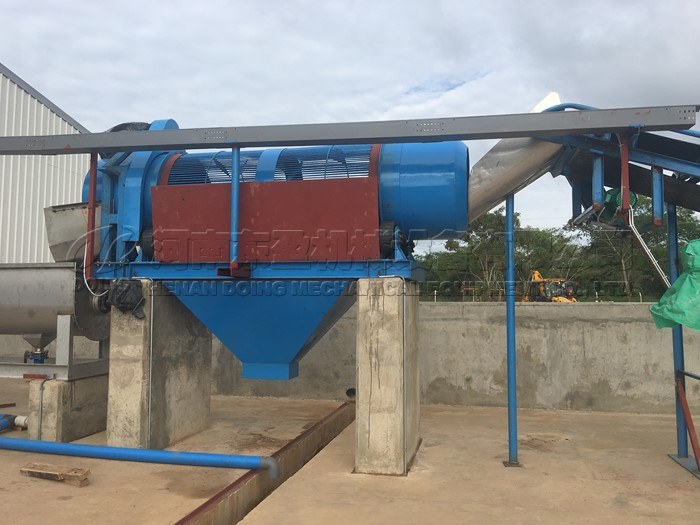 Cassava cleaner
The second modified cassava flour processing machine is a cassava cutter to cut cassava tubers into small pieces, then steeping into water to ferment. As for the fermentation device, you can establish the ferment pool by yourself, or our company manufacture the stainless steel fermentation tank for you.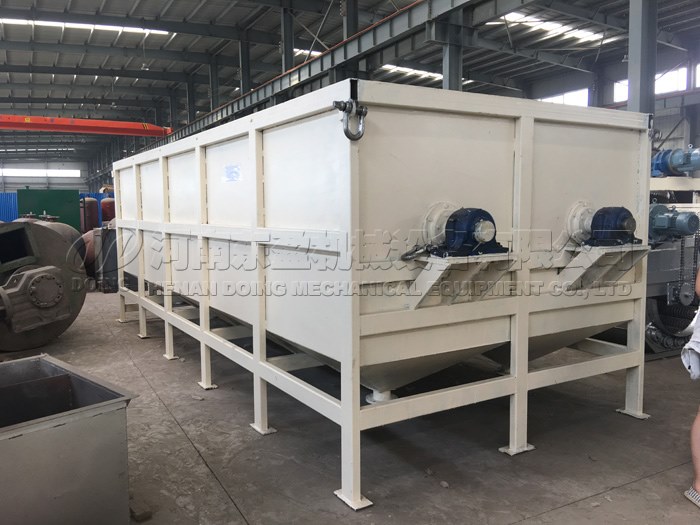 Cassava washer
The third modified cassava flour processing machine is crushing machine. Cassava rasper is a high efficient crushing machine. Because of the centrifugal force, the blade and clamping device are thrown to the outer edge, the cassava are then ground up with file shards and tooth flakes. If you want the produced Mocaf with high fineness, the rasper is the best choice. Rasper machine has large crushing capacity, strong production capacity, uniform product size, low energy consumption, simple structure, light weight, convenient operation and maintenance, high toughness.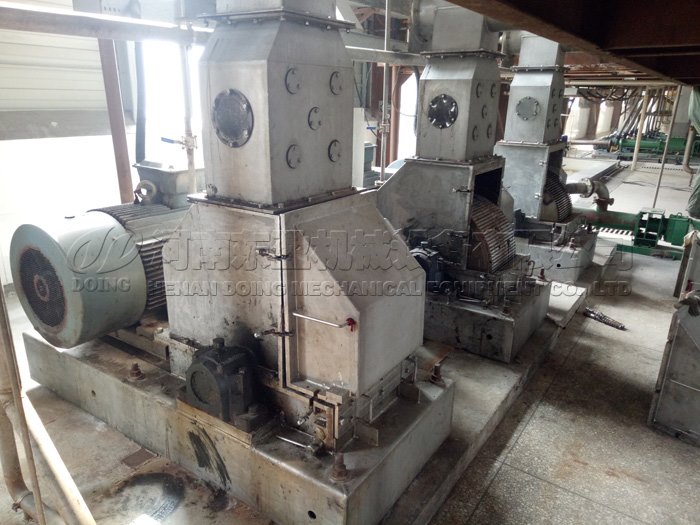 Rasper
The forth modified cassava flour processing machine is a slurry de-sander. Cassava slurry is pumped into the cyclone de-sanding machine, according to the gravity difference, remove fibers, small sand and any other impurities.
Then the fifth modified cassava flour processing machine is dewatering machine. Plate and frame filter press is the dewatering machine which utilizes pressure to remove the liquid from a liquid-solid slurry. A plate and frame filter press is the most fundamental design, this type of filter press consists of many plates and frames assembled alternately with the supports of a pair of rails. When the separating chamber is full, the filtration process is stopped as the optimum pressure difference is reached. The solids remain in the void between the plates, until the plates discharge the filtered solids. After processing by plate frame filter press, we can get wet Mocaf(modified cassava flour) cake which moisture about 38%.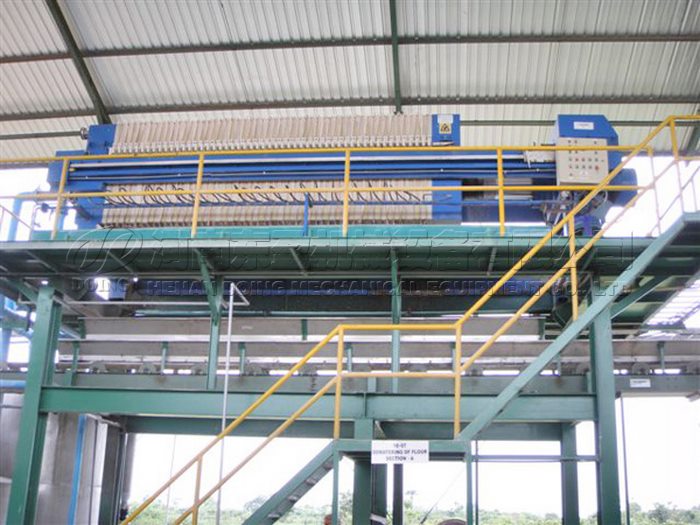 Plate frame filter press
The sixth is crushing machine: after dewatering, the Mocaf will be the compact cake shape, it is not convenient to dry. So the modified cassava flour cake will be crushed by hammer mill. During the industries production process of modified cassava flour processing machine, hammer mill also can be taken by other type crushing machine.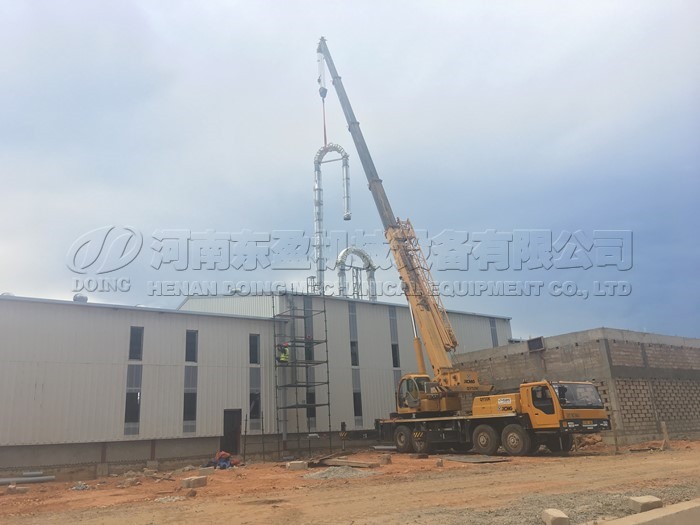 Drying machine
The seventh step is drying. Flash dryer is the last modified cassava flour processing machine for making Mocaf. Since the flash dryer adopts negative pressure and cooling system, and full sealing structure, so during drying, guarantee no loss of Mocaf, keep factory workshop clean, Mocaf can be dried completely. After drying, the Mocaf moisture is 12%-14%, meet the market standard.
The eighth modified cassava flour processing machine is vibration sieve. Adopt flour sifter to sieving the dried Mocaf to get uniform fineness, high quality products, this machine also can further sieved the small fibers from Mocaf.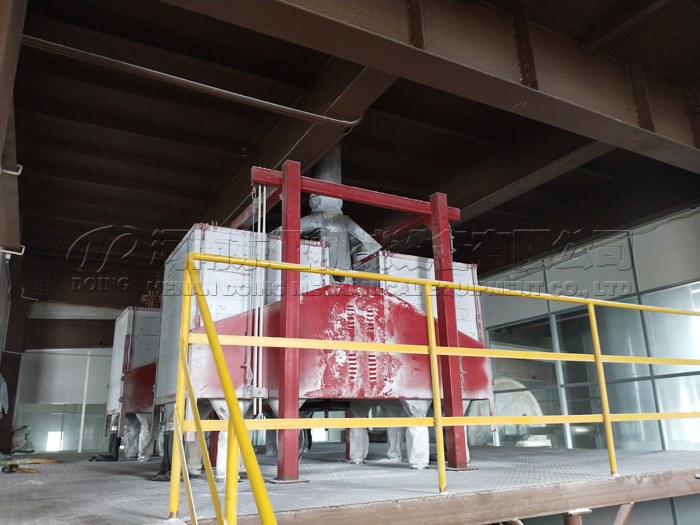 Sieving machine
Finally, packing.To pack cassava flour into bags for sale.
To sum up, Doing Company designed and manufactured modified cassava flour processing machine is automatic operation, processing from fresh cassava tubers, guarantee produced Mocaf high quality food grade, good whiteness, uniform and good fineness, can widely used for various of food making.