In April, 2018, customer from South Africa purchased a complete set of cassava flour processing equipment from Henan Doing Company, including cassava cleaning machine, cassava washing machine, cassava peeling machine, hammer crusher, plate frame filter press, sand remover, air flow dryer, vibrating screen and packaging machine.
The reason she bought the cassava flour processing equipment was that she want to build a cassava flour factory near his cassava plantation. She used to sell cassava directly, but the economic benefits were not high. After doing a market research, she learned that the demand for cassava flour in the local market was large, so she decided to process her own cassava into flour. When communicating with our sales manager, our sales manager not only explained to her our latest cassava flour processing technology, but also sent her photos of our projects case in Nigeria and videos of our cassava flour processing equipment running. She was so interested in our equipment and new technology that she decided to visit our company personally.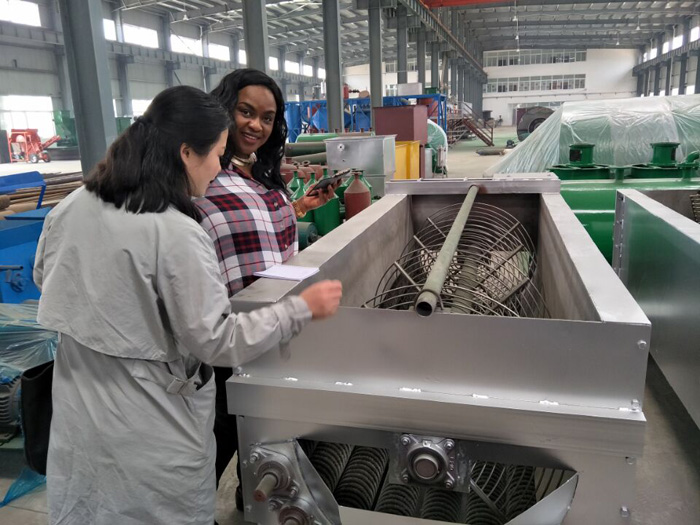 Customer visit our equipment
She came to China in March, 2017, and she firstly went to our factory to inspect our manufacturing strength and our actual cassava flour processing equipment. During this time, our engineer introduce our technology and every equipment to him in detail, she was satisfied with our equipment and technology. Then we took him to our potato starch processing plant project in Jiaozuo, though this is a starch plant, she can clearly see our project strength. After seeing all of this, she showed his strong willing to cooperate with us, but she told us that she need to return to South Africa to confirm his sales channel first before her sign contract with us.
One month later, the customer came to Doing Company again, this time she directly signed contract with us and paid the deposit. And DOING factory is now manufacturing his cassava flour processing equipment according to his requirements of the contract.