In Ghana, kokonte is a popular and main food for many families. Then how to make kokonte flour, we here will introduce the two ways for kokonte flour production: the traditional way and the mechanical way.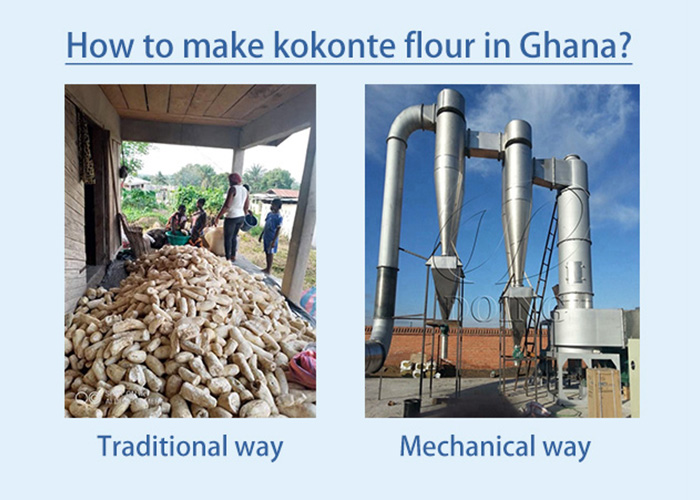 The traditional way and mechanical way of making kokonte flour in Ghana
The traditional way to make kokonte flour in Ghana
In Ghana, the traditional way to make kokonte flour means processing cassava totally by hand. This way mainly includes six parts: washing, peeling, soaking, drying, and milling. Ghanaian people will wash and peel the raw cassava tubers firstly. Then the cleaned cassava tubers will be soaked for hours to keep the taste. After the soaking part is finished, the cassava tubers will be dried and milled. Then the final kokonte flour is produced.
The mechanical way to make kokonte flour in Ghana
Compared with the traditional way to make kokonte flour, the mechanical way is more popular among Ghanaian people due to its high efficiency and high quality. Generally speaking, the process of kokonte flour can be divided into three parts: cleaning, processing, and drying.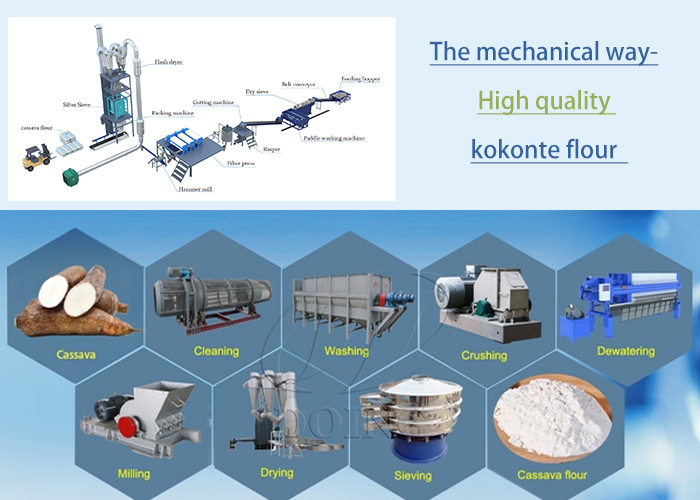 The kokonte flour making line in mechanical way
In the cleaning part of making kokonte flour, a dry sieve, a paddle washing machine and a cassava peeler will be used. The first one here is for removing impurities like weed, mud, leaves, etc. attached to the cassava tubers, the second one is to wash cassava thoroughly, and the cassava peeling machine is used to peel the two layers of cassava tubers which on the one hand, are poisonous, on the other hand, will effect the kokonte flour's taste because of their rich fibers content.
The processing part is the most important section of making kokonte flour. In this part, there are several machines need to configure: a cutting machine, a rasper and a filter press. The cutting machine and the rasper will help to grind the cleaned and peeled cassava into slurry. After grinding, a tank is usually used for the fermentation to keep the taste. Then the fermented cassava slurry will be pumped into a filter press for dehydration.
In the drying part, the dehydrated kokonte flour will be dried under the hot airflow force in the inner of a flash dryer. Jinrui's dryer for kokonte flour adopts a negative pressure principle to improve the drying effect. Then the dried kokonte flour will be further sieved by a sifter sieve to ensure the quality of final products. After this, a packing machine is available to help pack for sale.
We have many project cases about making kokonte flour in Ghana, and if you wanna involve in kokonte flour making business, kindly contact us!