On April 17,2023, centrifuge sieves purchased by an old client in Nigeria was delivered from Henan Jinrui factory. This shipping list include 4 Model 600 centrifugal sieves and a set of spare parts.
What is centrifuge sieve?
Centrifuge sieve is part of cassava starch processing line, used to separate cassava fiber out of cassava starch milk and finally reaches the high extraction rate and high purity effect. The centrifugal sieve adopts graded separation, generally speaking, the higher the number of stages, the better the purification effect. In this order, our old client from Nigeria purchased more than one centrifugal sieves to upgrade the purity of cassava starch.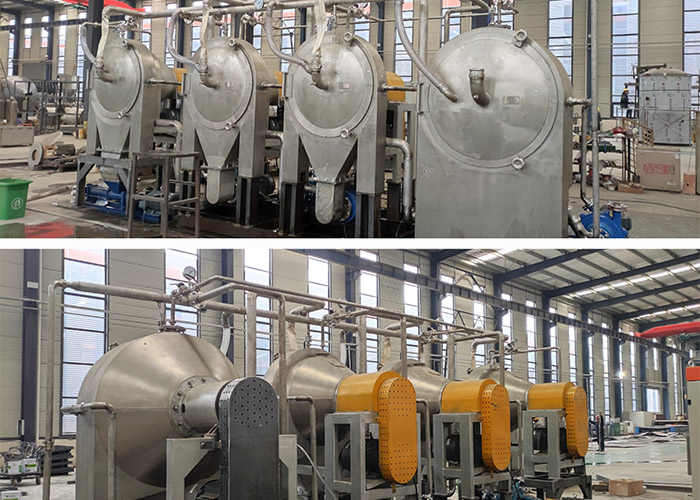 Centrifuge sieves in cassava starch processing line
How is the machine packed?
Before being delivered from the Henan Jinrui factory, the pipes of centrifuge sieve are labeled, so it is very easy and convenient for our client to install the machine by himself. Also these cassava starch processing machines will be protected by industrial film cloth from possible contamination during transportation. At the same time, they will be packed in wooden boxes to ensure that the centrifugal sieves will not be damaged during transportation.
Why customers choose Jinrui?
Stable operation, durable material, easy maintenance, and perfect after-sales service, Jinrui cassava starch processing machine enjoys great population among customers from around the world. Specific to this client from Nigeria, he ordered a cassava starch production line a few years ago, and this time he would like to purchase a set of spare parts and replace his centrifuge sieves. When asked the machines' working performance, he said that until now, his cassava starch processing machine still worked well. Jinrui is very thankful for his recognition and trust.