On April 27th, 2022, a Nigeria client purchased one set 2T/h garri production equipment from Henan Jinrui Company. What he purchased includes dry sieve, paddle washing machine, cassava peeler, grater, hydraulic press machine, hammer crusher, garri fryer, garri sieving machine and packer. This batch of equipment has the characteristics of simple installation and convenient operation, which is very popular in garri processing business in Nigeria.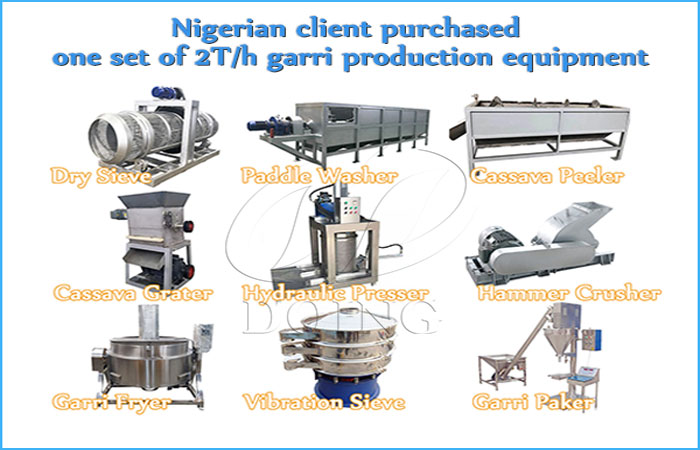 Garri production equipment suppiled from Henan Jinrui company
The Nigerian client has a cassava farm about 550 acres. And due to the garri market in Nigeria is thriving, the Nigerian client came out a idea about starting garri production line at home in 2021. Since then, the Nigerian client started to find the cassava processing machine manufacturer with professional technology and rich experience. He finally found Henan Jinrui company, a professional manufacture of cassava processing machine, particularly garri processing machine, via Google. He sent his specific information about his requirement to us by Henan Jinrui company's official website.
According to the Nigerian client budget, daily capacity, factory land, etc, the client manager of Henan Jinrui company offered an solution to him. He was satisfied with the solution of the garri production plant and service of Henan Jinrui company. At last, He signed the PI and paid the deposit to Henan Jinrui company. Now, his payment has been received by Henan Jinrui company. And also, his order has began to manufacture in Henan Jinrui company's factory. After 45days, his garri production equipment will be shipped to Nigeria.
To sum up, if you order garri production equipment from Henan Jinrui company or other cassava processing equipment like cassava starch production plant, cassava flour production plant, you can also enjoy these service, including machine customizing, prototype investigation and after-sale service. As garri production business is lucrative in Nigeria, why don't you join in this industry?