On October 8th, 2022, a Swiss customer paid Henan Doing Company a deposit of 0.5tpd gari processing machine. The gari processing plant is established in Cameroon. It includes cassava peeler, cassava grater, cassava dewatering machine, gari fryer, sieving machine and packing machine.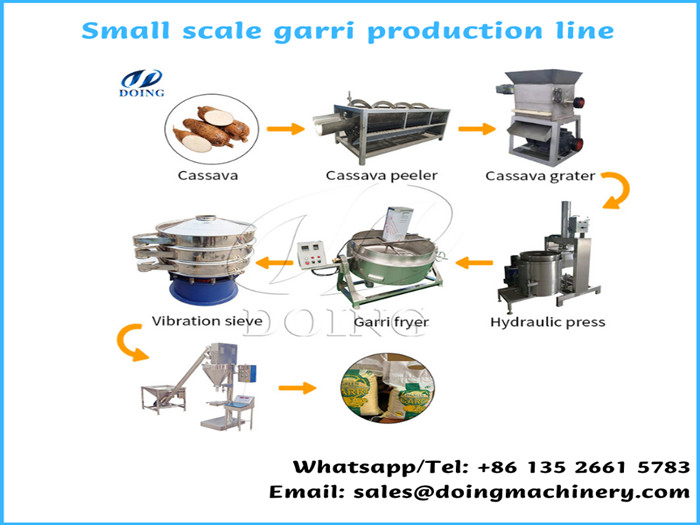 Small scale gari processing machine
This client is from Switzerland and is a very caring person with a passion for philanthropy. After learning about the local economic situation and cassava planting area in Cameroon, the client came up with the idea of setting up a local gari processing plant, aiming to help local women improve their social status and obtain job opportunities.
Customers contacted us for the first time through the Henan Doing Alibaba store on September 7th, 2022. Since the customer is very fond of our product introduction, after showing the machine running video to the customer, the customer is very satisfied with the quality of gari processing machine, and soon decides to buy the machine from us. In the process of communicating with customers, considering the lack of local power supply, we suggest that customers use 230V single-phase power to solve this problem. This is also a good choice for local people.
At present, the 0.5tpd gari production machine ordered by our customer is being produced in the factory of Henan Doing Company. The customer can customize the output and appearance of the machine, and our technicians will meet the customer's needs to the greatest extent. After the gari processing machine completes production, the customer will be notified to view it through the video phone, and then packed according to customer's requirements and sent to the port designated by the customer.
Henan Doing is a professional cassava processing machine manufacturer, you can search us on the Alibaba and website. If you have any need, welcome to contact us.