DOING holdings - Henan Jinrui is a professional manufacturer of complete set of cassava starch processing machines which is committed to the design, manufacture and installation of machine. Next I will show the method of processing cassava into starch.
The production process of processing cassava into starch is a physical separation process. The method of processing cassava into starch is cassava tubers transportation, cleaning, crushing, fiber separation, sand removal, purification, dehydration, drying and packaging.
The specific method of processing cassava into starch includes:
Dry sieve - remove mud, weeds, earth and skin from cassava tubers.
Paddle washer - further washing to remove the silt on the surface of cassava.
Cutting machine - used for cutting cassava tubers into small pieces to get a better crushing effect.
Rasper - fully crushing, open the cell wall and turn the bound starch into free starch to maximize the starch extraction rate.
Centrifuge sieve - separate crude fibers from starch slurry.
Fine fiber sieve - further separation to remove thin fibers.
Hydrocyclone station - remove fat, protein and cell sap out of starch slurry to concentrate and delicate starch milk.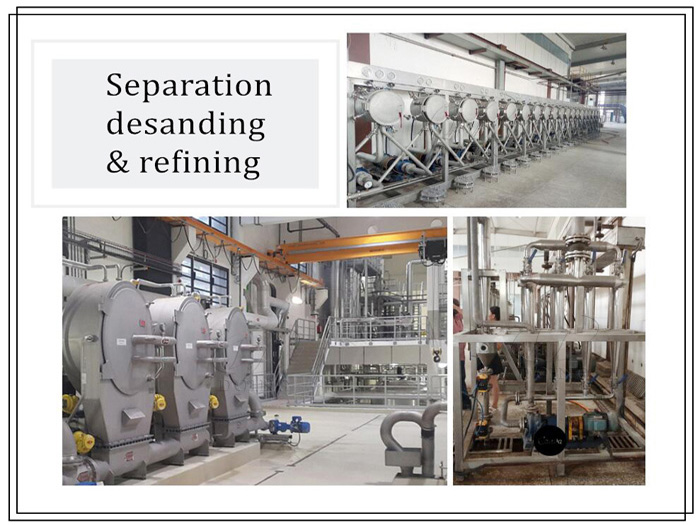 Processing cassava into starch
Peeler centrifuge sieve - is used for cassava starch dewatering and get moisture under 40% wet starch.
Flash dryer - used for starch drying and complete the whole drying process within 2 seconds.
Starch sieving machine - sieving produced dry starch to get high quality starch and then starch can be send to packing.
Cassava starch processing machine is a method of processing cassava into starch. We can design different projects and provide different machines for you according to your capacity .