As a professional cassava flour processing machine manufacturer and supplier,Henan Jinrui Company had more than 10 years plant project installation experience. And we often offered suggestions for cassava flour processing plant preparatory work to clients. Here I suggest you to make preparations from the following five aspects: business plan, funding, plant land, raw material supply and cassava flour processing machine.
①Prepare a business plan to know more about cassava flour processing plant.
A business plan is necessary for a project,a well-developed business plan will help you know exactly what you want to do, so do some research first,like the research about cassava flour plant scale,sales market, how much of cassava are needed to produce cassava flour every day according to your requirements, etc.
②Prepare enough funding for cassava flour processing plant.
After you make a business plant, you need to prepare enough funding according to your business plan. Starting a cassava flour project, you not only need to prepare the funding for cassava flour plant land, raw materials, the machine, but also others, like water, electricity, manual,etc. Funding is an important factor to start the plant smoothly.
Cassava flour processing plant
③Prepare a plant land location for cassava flour plant.
We suggest that cassava flour plant land can locate near the cassava farm, and it's better to choose a plant land with enough electricity and water recourse. Besides that,the land is big enough to place cassava flour processing machine and other auxiliary facilities.
④Prepare enough raw materials supply for cassava flour processing.
Our processing technology is wet processing and we need fresh cassava to process, so you need to think of the freshness period of the cassava.The fresher the cassava root, the higher the cassava flour production yield. Besides that, if a cassava flour plant wants to run continuously, a steady source of fresh cassava raw materials is essential. So it is important to keep raw materials fresh and in constant supply.
⑤Prepare suitable cassava flour processing machine.
The last but not the least,you must confirm to purchase suitable cassava flour processing machine according to your capacity requirements. If you don't know bow to choose the machine,you can contact Henan Jinrui Company. Our company offers different specifications of cassava flour processing machine from small scale to big scale, like 2tons input per hour, 4tons input per hour, 8tons input per hour, even 10tons input per hour. And all of the cassava flour processing machine has the features of stable operation,easy handling and low power consumption.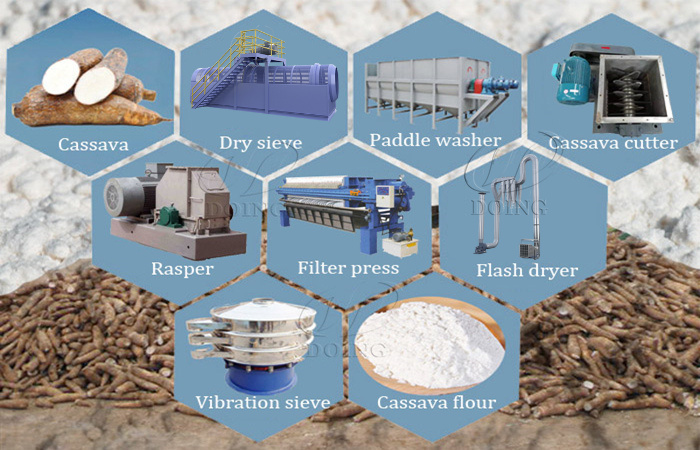 Cassava flour processing machine
Welcome to contact us for more detailed information about cassava flour processing plant. We have experienced R&d and technical team, who can not only help you choose the most suitable cassava flour processing machine to meet your production capacity, but also can offer you the plant design drawing,equipment installation,etc.