Garri is a popular West African food made from cassava. Many investors want to build the garri processing plant but they don't know what machines are needed in garri production process. As a professional garri processing machine manufacturer with a professional R & D and service team, I'd like to tell you the machines needed in garri production mainly are dry sieve,paddle washing machine, cassava peeling machine, cassava grating machine, dewatering machine, hammer crusher, garri fryer and vibration sieve. The article is going to introduce the needed machine in details combined with the garri production process.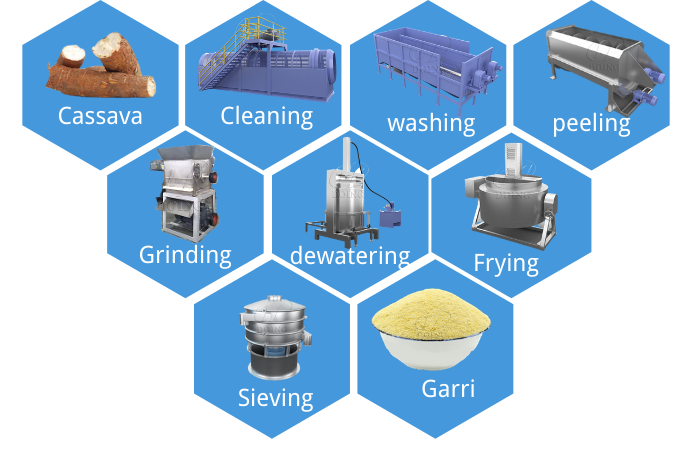 Garri production process
①Dry sieve and the paddle washing machine are needed to clean cassava.
First, put the cassava into the dry sieve to clean the dirt and sand particles, as well as mixed weeds and small rocks. Secondly, the paddle washing machine will use counter-current washing principle to remove the mud, sand and other impurities in cassava raw materials effectively.
②Cassava peeling machine is needed to peel subcutaneous cuticle of cassava.
Cassava peeling machine is wildly used for removing outer peels and subcutaneous cuticle of cassava.This step will give the cassava a more perfect taste.
③Cassava grating machine are needed to grate cassava into cassava pulp.
The cassava raw material will be crushed by cassava grating machine, which is helpful to crush the cassava material into watery, pulpy mash. And then you need store the pulp at room temperature so it ferments properly. Give the pulp 24-48 hours to complete the fermentation process.
④The dewatering machine are needed to dewater the pulp into cassava powdery cake.
After fermentation, you can transfer the pulp into the dewatering machine.The dewatering machine use the principle hydraulic press,it will directly squeeze the water of cassava pulp and discharge out of the charging barrel. After dewatering, you can get the cassava powdery cake.
⑤Hammer crusher is needed to crush cassava powdery cake.
The cassava powdery cake will be crushed by hammer crusher,which can use high speed rotating knife to break the cassava powdery cake into cassava powder.
⑥Garri fryer is needed to dry the cassava powder into garri.
After crushing,you can use the automatic garri fryer to dry the cassava powder into garri. The garri fryer has the brilliant features like heating fast, temperature stable and so on.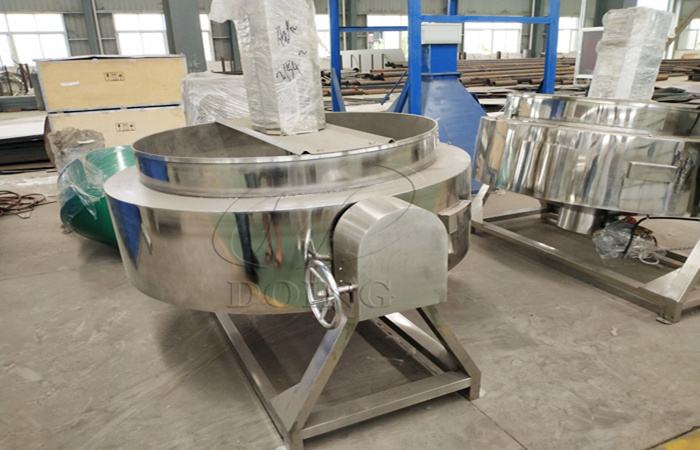 Garri fryer
⑦The vibration sieve is needed to separate different particles and powdery garri.
The vibration sieve can separate different particles and powdery garri well through a variety of different screening ways to meet the high quality production of garri.
Henan Jinrui Company has more than 10 years of production experience in GARRI processing machine field, excellent machine quality and after-sales service attracted customers from more than 30 countries in the world to buy our GARRI processing machines.Our garri processing machines which touch material are made of stainless steel, which guarantee the high standards of final product. If you have interests in
garri processing plant
, welcome to inquiry!