Many people have been wondering if tapioca flour is the same as tapioca starch. The answer is certainly no. Tapioca flour is different from tapioca starch in appearance, application and processing steps. By reading this article, you will tell the differences between tapioca flour and tapioca starch.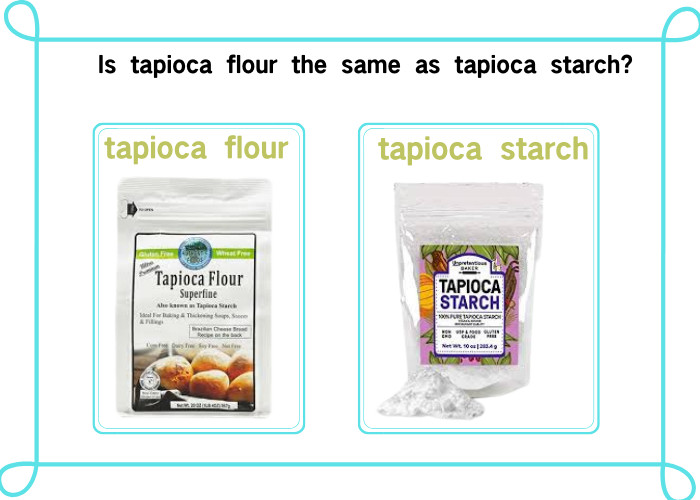 Henan Jinrui tells you the differences between tapioca flour and tapioca starch
Both tapioca flour and tapioca starch are made from fresh tapioca root, but they have different properties and functions. Tapioca flour is mostly granular and is widely used in food production fields such as bread and biscuits. Tapioca starch is a very fine powder and is often used in papermaking, printing, glue, textile and other industrial fields. Another point you need to know, making tapioca flour and tapioca starch is different.
Tapioca flour production is relatively simple. The main processing steps are as follows:
Cleaning, washing and peeling. Firstly dry sievie will remove impurities attached to the surface of the cassava roots. The paddle washer will then deep clean the tapioca with water. Finally, the newly designed sand roller peeler will remove the cassava skin.
Pulping. The cutting machine first cuts the whole peeled cassava into small pieces, and the rasper will crush small cassava pieces to cassava pulp to the most extend, ensuring fineness of final flour.
Dewatering. The cassava pulp is dehydrated by a plate-frame filter press to obtain a wet cassava cake with a moisture content of about 40%.
Crushing and drying. After dehydration, what we get is wet cakes. So, hammer crusher will be used firstly to break cakes into power, and then wet powder will be transported into flash dryer for complete drying. After drying, we can get final flour with moisture content around 12%-14%.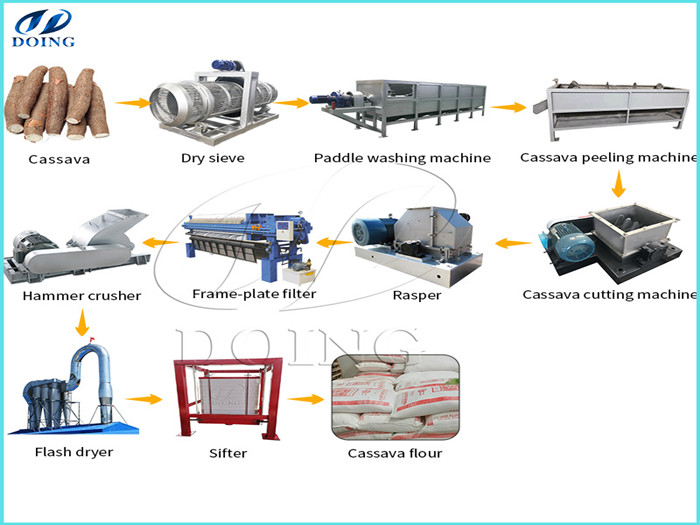 Complete set of tapioca flour production line
The production of tapioca starch is more complex than the production of tapioca flour. The main processing steps are as follows:
Cleaning and washing. Use a dry sieve to remove surface impurities, then use a paddle washer to wash the tapioca roots with water.
Pulping. Two-stage crushing are adopted. Firstly cutting machine cut full cassava into small pieces. Secondly, rasper machine is applied to crush cassava to the most extent, to release starch as much as possible, ensuring high starch yield.
Starch extraction and refining. After pulping, cassava pulp is firstly pumped into centrifuge sieve machine to remove fibers, and then hydrocyclone station is applied to separate liquid impurities like protein, fats, cell liquid, etc.
Dewatering. Vacuum dehydrator or peeler centrifuge can be used to dehydration purified starch milk to get wet starch.
Drying. Firstly flash dryer is adopted to dry wet starch to dried starch with moisture content around 14%. The moisture content can be adjusted according to client's request.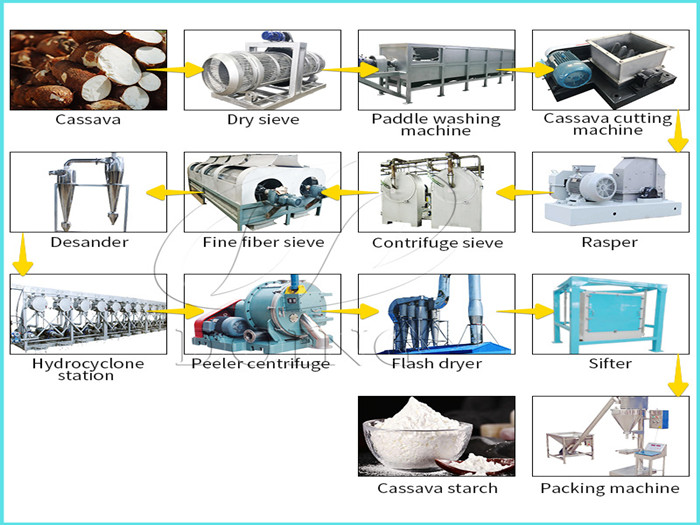 Tapioca starch processing machine from HENAN JINRUI
The above is the main difference between tapioca flour and tapioca starch answered by Henan Jinrui Company.
Although these two cassava products are different in appearance and function, they have a large market. Henan Jinrui Company is a professional manufacturer and supplier of cassava processing plants, with rich experience in the design, manufacture, installation and commissioning of the whole line. Many projects have been installed and run successfully in Africa and Southeast Asia. If you are interested in setting up a tapioca flour or tapioca starch project, please feel free to contact us for more details.