Cassava meal can be regarded as cassava flour and attieke in different countries. But what is a step-by-step guide to making cassava meals at the factory?
First, in most West African countries, cassava meal refers to cassava flour. Usually, cassava flour processing at the factory includes 3 parts. Cleaning, processing, and drying. The flow chart will be like this: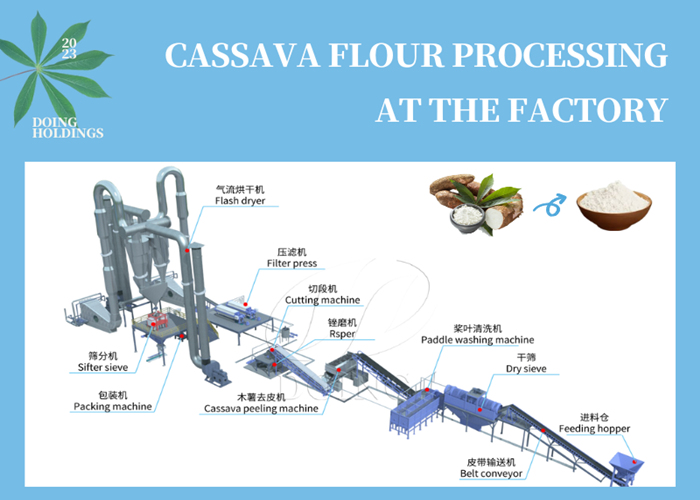 Cassava flour processing at the factory
1. Cassava selection and cleaning: The selected cassava roots are washed thoroughly to remove dirt and other impurities through the dry sieve and paddle washer.
2. Peeling and grating: The clean cassava roots are then peeled using a cassava peeler, and grated using a rasper.
3. Pressing and dewatering: The grated cassava pulp is then pressed to extract the liquid through a plate-frame filter.
4. Drying: The wet cassava solids are then dried using a flash dryer. This step removes the moisture content and results in dry cassava flour.
5. Sieving and packaging: The dry cassava flour is then sieved to remove any lumps or impurities through a sieving machine. The final step involves packaging the cassava flour in bags or containers for storage or transportation.
Another cassava meal is called attieke, which is the staple food for Cote d'Ivoire people. Attieke is also processed with fresh cassava tubers. After cleaning, peeling layers, grating to mash, and steaming for about 15 minutes to get attieke. People also can add some seasoning to enjoy it. In recent years, attieke is pretty popular.
For the detailed production process of attieke, you can click this article: What is attieke? Where can I buy a machine for processing the attieke?
Henan Jinrui Food Company can provide cassava flour processing machines and attieke processing machines according to different capacity plans from 2 tons to 40 tons input per hour.
If you are interested in a cassava meal processing machine, you can message us your capacity plan and your budget, our project manager will contact you as soon as possible.