The ultimate goal of all those who set up cassava flour processing plant is to make more money. In order to earn maximum profit on cassava flour processing, some people is wondering to know, in the process of cassava flour processing, besides finished cassava flour, is there any by-proucts to recycle? The answer is of course, that is cassava peels, and squeezed water after cassava pulp dewatering. As an experienced professional cassava flour processing machine manufacturer, Henan Jinrui is glad to tell you how to recycle the by-products produced during cassava flour processing process?
First you should to know, cassava flour processing steps include cleaning, peeling, grating, dewatering, drying and sieving by processed fresh cassava tubers. In cassava flour processing, after peeling cassava, the cassava peels is useless. And in oder to get dry cassava flour, the crushed cassava pulp needs to squeeze out excess water to get cassava cakes. So if you want to maximize the production profit, you can recycle the above two by-products.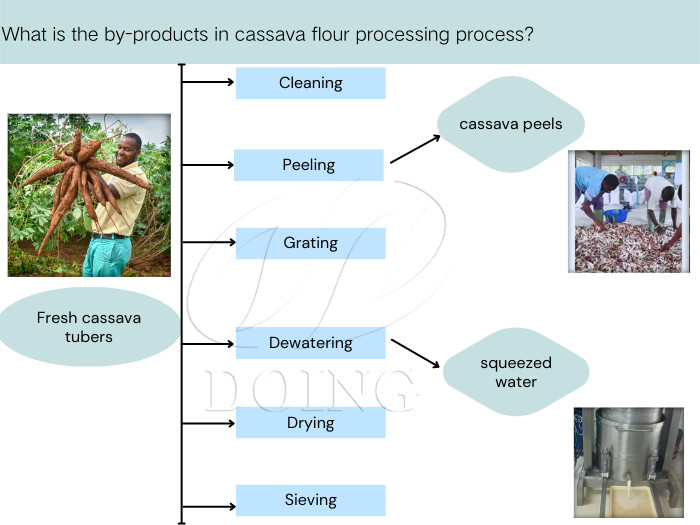 Two main by-products in cassava flour processing process
Now let me introduce how to recycle the by-products produced during cassava flour processing process?
For cassava peels after peeling machine are fine peels that can be used to feed animals. It's a good animal feed with high moisture and strong satiety. So if you are processing cassava flour, try storing the cassava peels and feeding them to animals. Your can save much feed cost. After cassava tubers are cleaned and peeled, try to collect the peels into bags. Moreover if you process high capacity cassava materials, you can consider to use cleaning and peeling machine to store peels, just need to collect peeling machines bottom peels. That also can save more time and energy.
The next by-products of cassava flour processing is squeezed water after dewatering step. Actually the squeezed water includes some starch. Most people will dry the squeezed water in sunlight and get starch finally by sediment. Moreover mechanized cassava flour processing can achieve big capacity squeezed water collecting by filter press machines. All squeezed water will be released from one outlet. People can dry by sunlight to get as much as possible starch.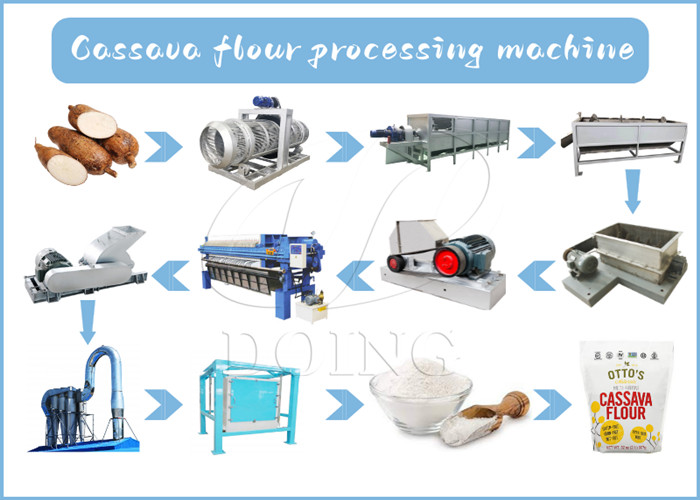 Whole process cassava flour processing machine
All the above by-products in cassava flour processing process is based on Henan Jinrui's past experience to introduce, if you have any other ideas about recycling cassava by-products, welcome to message us and tell us your idea. We are looking forward to getting your advice. Also, if you buy our cassava flour processing machine, we're willing to provide cassava by-products recycling solutions for you for free and some auxiliary machine.