For the cassava starch processing business, tapioca starch processing equipment is indispensable because the production of cassava starch is a complicated process that needs to undergo cleaning, grinding, impurities separation, purification, dehydration and drying processes.
The following are commonly used tapioca starch processing equipment and their functions:
| | |
| --- | --- |
| Vibrating unloading machine: To preliminary removal of impurities on cassava and convey cassava | |
| | Belt conveyor: To convey cassava to cleaning machine |
| Dry sieve: To remove sand, stone, leaves and other impurities from cassava | |
| | Paddle washer: To further wash soil, dirt attached on cassava |
| Cassava cutter: To cut cassava into 3-5cm pieces so that cassava can be easily grated | |
| | Rasper: To break cells of cassava to release starch from cassava, the higher the breaking rate, the higher the yield |
| Centrifugal sieve: To remove fiber impurities in cassava pulp | |
| | Fine fiber sieve: To remove fine fibers in cassava pulp |
| Hydrocyclone system: To remove other soluble and insoluble impurities, such as protein, cell sap, it can achieve the washing, refining and recovering of cassava starch | |
| | Desander: To remove sand content in starch pulp |
| Peeler centrifuge: To reduce the moisture content of the refined cassava milk to around 38% | |
| | Storage tank: To temporarily store cassava milk before dewatwering |
| Flash dryer: To dry wet cassava cake into dry cassava starch | |
| | Vibration sieve: To sieve out large cassava starch particles and get finer starch |
| Packaging machine: To pack cassava starch into bags for storage or for sale | |
| | Automatic control system: To monitor and control the whole tapioca starch processing equipment running |
Doing Company tapioca starch processing equipment features:
1. Starting from rasper, the tapioca starch processing equipment is connected by pipelines, and the production process is in a closed environment, which can effectively prevent the starch from coming into contact with the air, thereby avoiding pollution and improving the quality of the tapioca starch.
2. The cassava washer adopts the principle of countercurrent washing, which can use less water to achieve a better washing effect. In addition, the bottom of the washing equipment is provided with a stone sinking tank, and the washed dirt, sand and partially removed cassava skin can be smoothly discharged.
3. The rasper is developed by DOING engineer who has more than 30 years of experience in the cassava starch field based on the introduction of advanced European technology. It adopts two-way grinding technology and has high efficiency. After testing, the cassava grinding rate is more than 95%, which leads to a high starch extraction rate and high starch yield.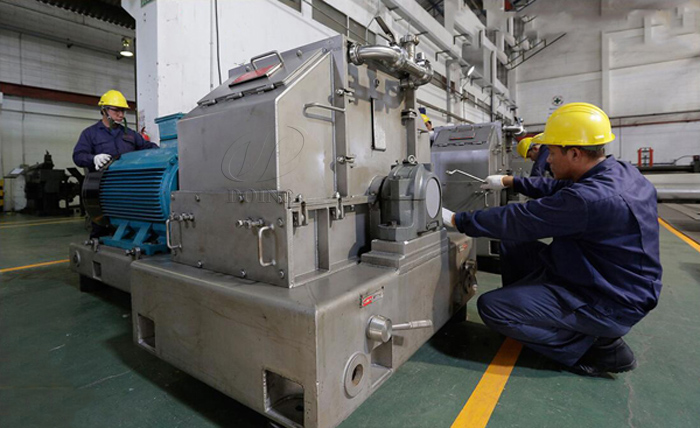 Rasper
4. Centrifugal sieve and fine fiber sieve are equipped with automatically controlled front and backflushing systems to regularly rinse the starch on the screen to ensure screen permeability. The screen is made of titanium steel plate, and is laser punched, which has high precision.
5. The hydrocyclone system is also made by absorbing the advanced technology of Europe. The swirl tube is made of high-strength nylon material and the whole internal pipeline is designed by computer, high quality and reliable operation.
6. The peeler centrifuge can automatically control the starch milk feed, and the scraper automatically discharges the material. The airflow dryer adopts a negative pressure drying system with short drying time and high efficiency. The equipment is equipped with a special material cooling system to ensure the moisture uniformity and the quality of starch.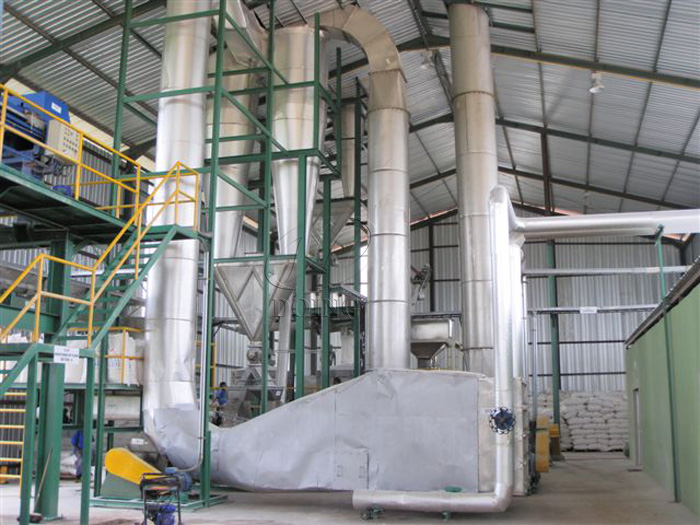 Flash dryer
7. Besides, DOING tapioca starch processing equipment adopts German Optibelt and Swedish SKF bearing. The equipment is made of stainless steel in the cassava starch contacting part. So our tapioca starch processing equipment has a long service life and is wear resistance and corrosion resistance.
In recent years, the demand for tapioca starch has increased year by year due to the widespread use of tapioca starch in food, textile, paper, and pharmaceutical industries. More and more people want to engage in the cassava starch processing business. For those who want to start the tapioca starch business, the tapioca starch processing equipment determines to a large extent the production efficiency of tapioca starch, starch yield, starch quality and corporate profits. Therefore, if you want to engage in the cassava starch processing business and want to choose the suitable tapioca starch processing equipment, please feel free to contact Doing Company. We have professional engineers who can recommend suitable equipment according to your needs.