During potato starch production, we have always emphasized the importance of washing. As the first link, potatoes washing is the basis and key that directly affects the quality of refined potato starch production. According to the characteristics of potatoes, Henan Jinrui has designed potato washing machines with a very low damage rate of cleaning materials. Not only the cleaning effect is good, the processing capacity is large, but also the water consumption is saved. It enables fully continuous operation of potato starch processing plants.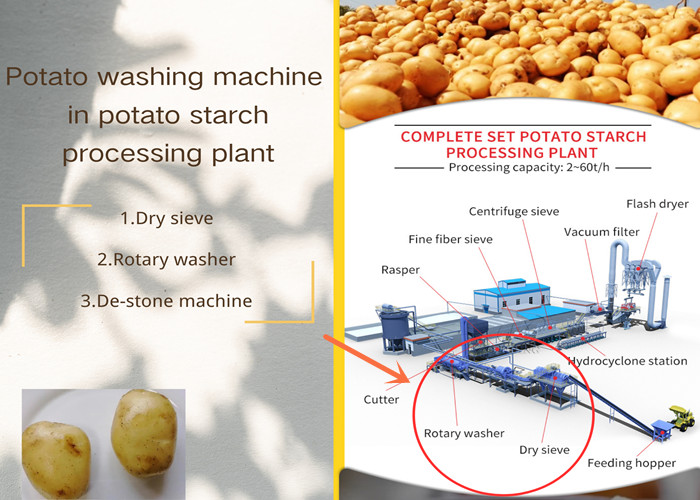 Potato washing machine in potato starch processing plant
1. The potato washing machine has a good cleaning effect
Different potato washing machines have different functions. For example, Henan Jinrui can provide dry sieve cleaning machine, rotary washing machine, de-stone machine, etc. All potato starch cleaning machines can be combined to clean the attached soil and gravel on potatoes effectively. In addition, the rotary washing machine produced by Henan Jinrui Company can reduce the loss of potato raw materials during the washing process, and the damage rate is low, which can improve the subsequent starch extraction rate.
2. The potato washing machine has a large processing capacity
The cleaning process is basically a joint processing of multiple machines, interlocking. The potato washing machine completes the whole process of feeding, conveying and running, which reduces manpower and greatly improves the processing capacity.
You can choose different configurations of potato washing machines according to your actual needs. If you want to increase the output in the future, you can increase the cleaning efficiency by increasing the number of potato cleaning machines.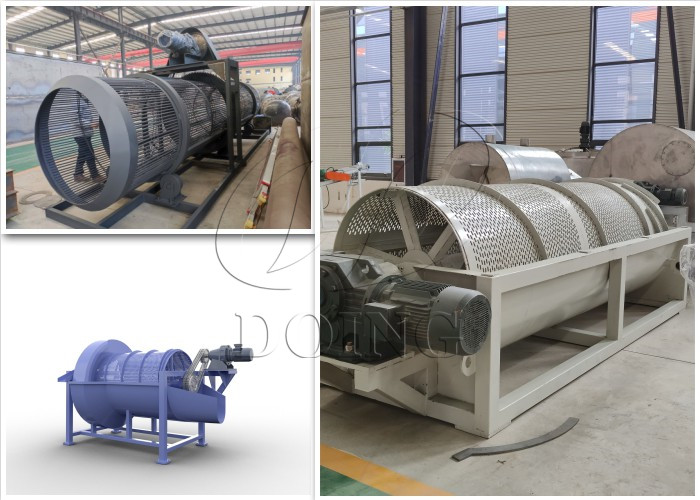 Hot sale potato washing machine from Henan Jinrui Company
3. Potato washing machine saves water
The cleaning process makes full use of circulating water for operations, reducing the consumption of fresh water. After washing, it enters the circulation pool for 3-stage sedimentation, and the sedimentation water treated by the filter can be reused, which greatly improves the utilization rate of water resources and saves water consumption.
In a word, the introduction of efficient potato washing machine can effectively reduce the failure rate of potato starch processing machine, thereby reducing the operating pressure of the potato starch purification section, and ensuring the clarity and delicate taste of starch.
For potato starch processing plants, the number of raw materials processed every day is large, but long-term stacking of fresh potatoes will reduce the starch extraction rate, so purchasing a high-efficiency potato washing machine is a wise choice for long-term profits. This is also why more and more potato starch processing plants are constantly upgrading their washing machines.
The above are the advantages of the potato washing machine shared today. Henan Jinrui is a self-designed and manufactured starch machine manufacturer, we can provide you with a series of services such as machine customization, plant design, equipment update, installation and commissioning. If you have potato starch processing needs, please contact us.