Cassava has high starch content and fresh cassava tubers are one of the best raw materials for starch production. Realizing this fact, African government in recently years starts to limit starch importation and encourage factories to produce starch from cassava tubers to meet high demand as well as reduce waste of cassava.So more and more people are interested in casaava starch business, and wonder how to produce starch from cassava? If you also have this question, please read on this article.
Starch processing is actually a physical extraction process. In general, it is divided into three sections: raw material cleaning, starch extraction and refining, dehydration and drying.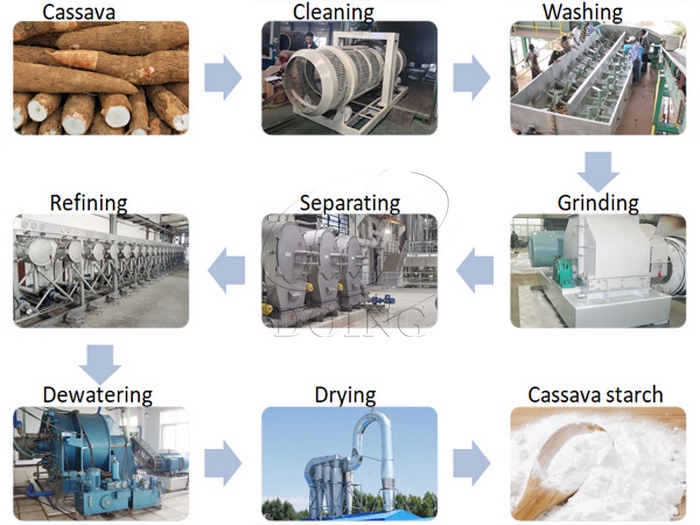 Cassava starch processing line
Firstly, we need to remove impurities attached on raw cassava tubers. Here we mainly adopt two steps - dry cleaning and wet washing.
Raw cassava will firstly go into dry sieve, where the impurities such as sand, weeds, stones etc. mixed with harvested cassava tubers will be removed. These impurities will fall down through the gaps between the machine and be discharged regularly. After that, cleaned cassava will be transferred to the paddle washing machine for deep washing. Other attached debris like sand, soil, etc. on cassava is thoroughly washed away under the action of paddle stirring and countercurrent washing principle.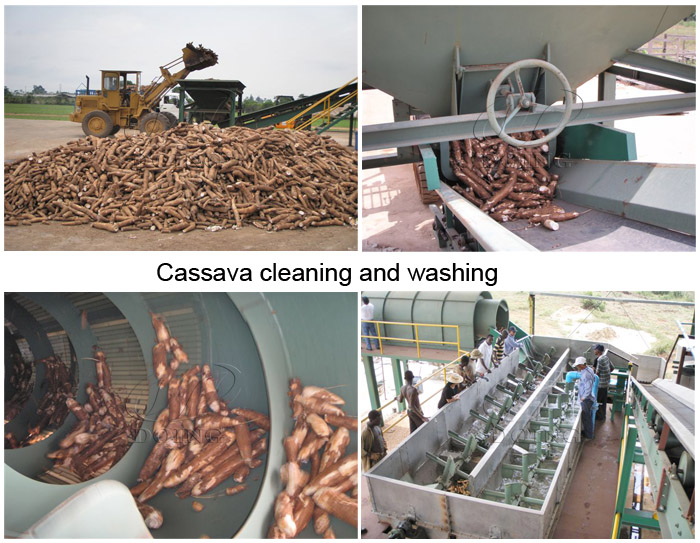 Cassava cleaning and washing part
After cleaning section, we need to extract starch and separate non-starch impurities to get pure starch.
To extract starch, we need to crush cassava into pulp to release starch. Due to cassava roots are long and big, we normally cut cassava into small pieces before crushing. Then cassava pieces are distributed to rasper for crushing. Rasper is the most advanced crushing machine at present, it can fully break the cassava cells to ensure starch be released to the most extent. DOING rasper can achieve a breaking rate of more than 94%.
After crushing, we can get cassava mash which contains starch and other impurities like fibers, protein, fats, etc. If we want to get purified starch, we need to remove those impurities one by one. The separation process can be divided into two parts: centrifugal sieve and fine fiber sieve are applied to separate fibers and tiny fibers; disc separator and hydrocyclone unit are furnished to remove protein and other liquid impurities. After these steps, we can finally get purified starch slurry with high quality.
In starch extraction section, rasper is the key equipment that directly influences starch yield. Our rasper has a high crushing rate and high efficiency. If the starch content of cassava tubers is not less than 23%, we can ensure that every 4 tons tubers can produce 1 ton starch as the finished product.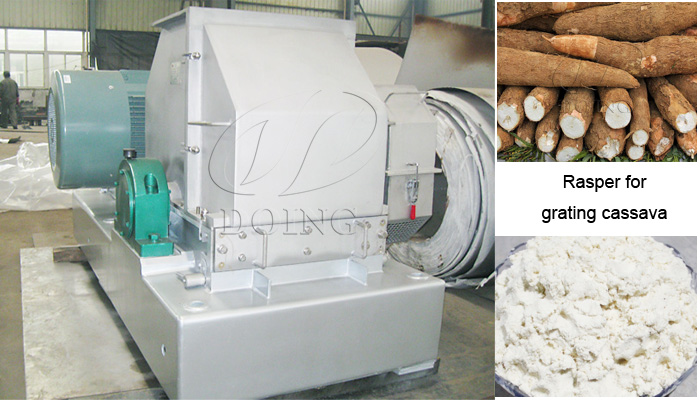 Rasper
And finally, we need to dewater and dry cassava starch to get dry edible starch.
In this section, we need to dewater purified starch milk first to get wet starch with moisture content 38-40%. And then wet starch will be sent to flash dryer to get dried starch with moisture content about 12%. The dewatering machine we adopt here is peeler centrifuge, which has high rotation speed thus can separate water more thoroughly. In drying process, to reduce starch loss and clean working environment, our flash dryer is designed with negative pressure. Besides, all parts that contact with the material are made of food grade stainless steel.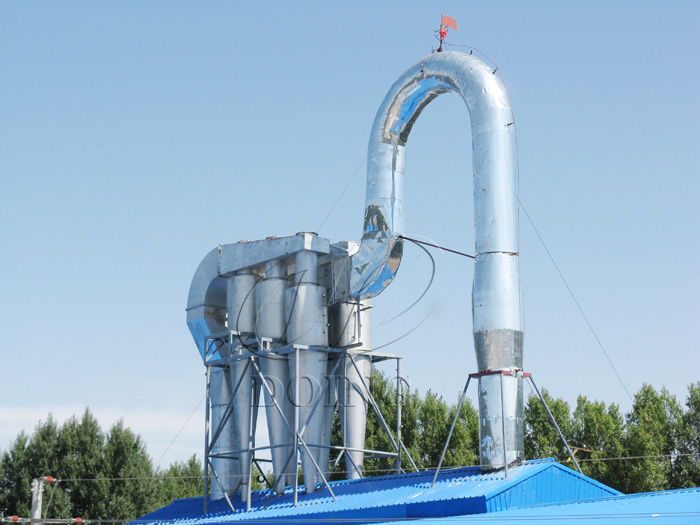 Flash dryer
After read this article, you may have a basic understand about how to produce starch from cassava. If you are interested in starch production and want to know more details, please leave your message here, our sales manager will contact you for detailed discussion and give you professional suggestion.