If you have a potato starch processing factory, you must notice the increasing potato starch residues as factory running. Day by day, you're worried how to deal with these potato starch residues. Here let's talk about potato starch residues together, you will know three profitable ways to deal with it.
Know about potato starch residues
After potato starch processing machine extracts the starch in the potato cubes, it will produce a large amount of fiber mixture, that is potato residuess. According to calculations, based on the production of 1 ton of starch from 7 tons of potatoes, about 0.14-0.175 tons of dry potato residues are produced for each ton of starch produced, and 1.4 to 1.75 tons of potato residues with a water content of 90% are converted. (Generally, the potato residues in starch factories contain about 90% moisture.)
Main constituents in potato residues
Components
Wet Basis%
Dry Basis%
Solid content
10.00
Starch
5.34
53.40
Cellulose
2.53
25.30
Ash
0.78
7.80
Protein
0.95
9.50
Pectin and other substances
0.40
4.00

Remarks: 1.Sampling amount for component analysis is 50kg; 2.Wet basis: components with water content; 3.Dry basis: components without water content.
In the past, many people did not know much about the how to deal with potato residues. Most of them were piled idle around the factory area or discharged into open farmland. The long-standing potato residues were fermented, emitting stench, seeping into the surface or flowing into rivers, polluting land and water sources , bringing serious pollution to the surrounding environment.
To solve this problem, many people have asked us how to deal with potato starch residues? With a professional team, Henan Jinrui recommend you three ways to deal with potato starch residues. They can not only increase the utilization value but also solve the environmental pollution caused by potato starch residues.
How to deal with potato starch residues?
1. Used to produce fermented feed
Potato residues contain protein, small-grained starch, vitamins, trace elements, etc., and are a high-quality source for animal feed.
At the same time, fermented feed is also the most ideal health feed for antibiotic-free breeding and environmental protection breeding, and has a good market prospect.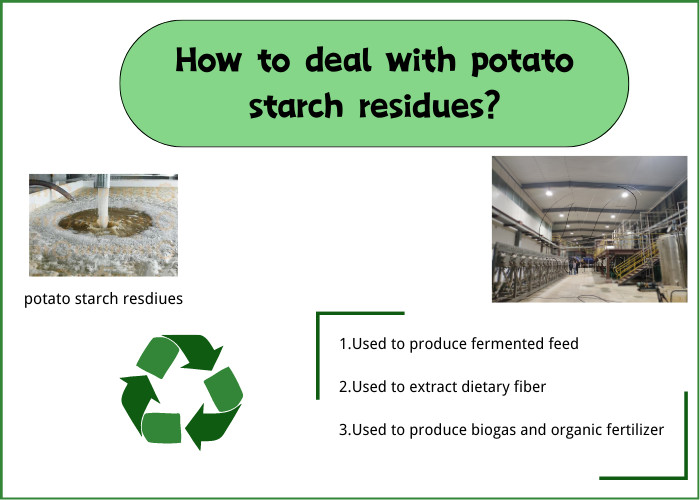 Recycle potato starch residues to process profitable products
2. Used to extract dietary fiber
Potato residues are rich in dietary fiber, accounting for about 20% of dry weight. Dietary fiber is beneficial to human health, and what is extracted from potato dregs is a safe and high-quality dietary fiber resource.
It can be processed into dietary fiber products and recommended to people suffering from constipation, colon cancer, cholelithiasis, atherosclerosis, obesity and other diseases.
3. Used to produce biogas and organic fertilizer
【Processing principle and process】:
Potato residues enter the homogenization tank, mixed with a small amount of juice, and then sent to the CSTR anaerobic reactor to generate biogas through anaerobic fermentation, and the resulting fermentation residues is returned to the field as organic fertilizer.
【Unique advantages】:
1. It has significant economic benefits. The biogas generated can save about 30,000 yuan in gas fees for potato starch processing factories every day.
2. The operation is simple, the production environment is improved, the automatic control system is simple and efficient, and the rotten smell is significantly reduced.
3.Utilization of resources. Biogas residues and biogas slurry are decomposed organic fertilizers and excellent soil conditioners. Returning to the field can significantly improve the soil and increase the content of organic matter.
For new starters to have a potato starch processing factory, you need know about what is the process of potato starch production:
1.Delivering and unloading potato to your potato starch processing factory;
2.Cleaning and washing of potatoes takes place during the transport of potatoes to the crushing or milling machinery;
3.Rasping of potato tubers into starch slurry with a rasper;
4.Separate starch slurry to recover starch and remove of the fibers;
5.Refining starch milk. This involves the removal of small fibers from the starch milk and then the removal of protein and cell sap and starch milk condensation;
6.Dewatering refined starch milk and drying starch to get dry starch;
7.Sieving dry starch to get the required size potato starch, then packed into bags for storage or for sale.
Seeing all of the above, you must learn how to deal with potato starch residues to produce additional profits. If you have any need about potato starch processing machine, welcome to inquiry us!