Tapioca roots can be processed into a variety of products such as garri, tapioca flour and tapioca starch. So for investors who want to turn tapioca into different products, how to choose tapioca processing equipment?
Generally speaking, the production steps of different products are different. If a person wants to produce different products at the same time, we would first suggest him to set up different production lines. But if he has limited budget, we can also design a solution to share some common equipment for different production lines.
We recommend customers to set up different production lines for different products, because the process flow and equipment selection are slightly different. For example, tapioca flour production requires peeling, while tapioca starch production does not. tapioca garri production requires relatively coarse particle size after crushing, while tapioca flour production and tapioca starch production require finer particle size. Therefore, the choice of machine is closely related to the requirements of finished products. Machines with different parameters may have an impact on the quality of your finished products, thereby affecting your sales market.
Of course, for the production of garri, tapioca flour and tapioca starch, there will also be some equipment that can be used together. In small scale garri and tapioca flour production, we usually advise customers to share equipment, from washing to dehydration, and do the drying part separately. The process is as follows: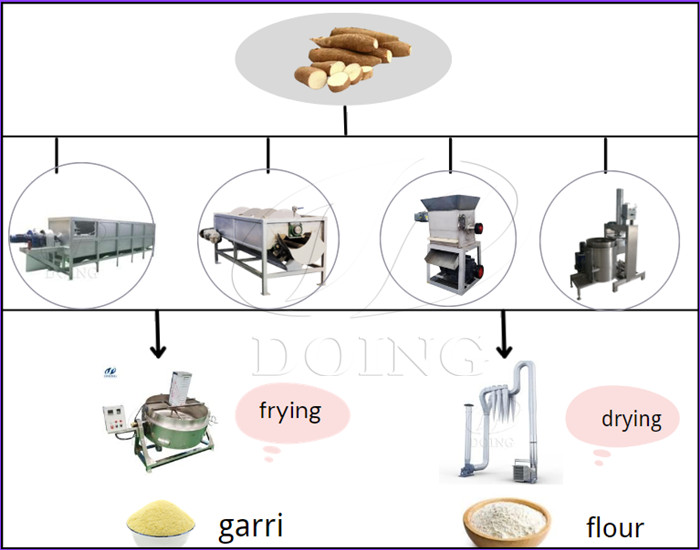 Select a shared production line to process garri and cassava flour
In large-scale production, the tapioca flour production line and the tapioca starch production line can be used in combination. Dry sieves, paddle washers and other drying section equipment can be shared. Then if you want to make tapioca flour, you can turn on the peeler. If you want to produce tapioca starch, just stop the peeler. The grinding equipment rasper can also be shared. [Read also: Complete cassava starch processing machine]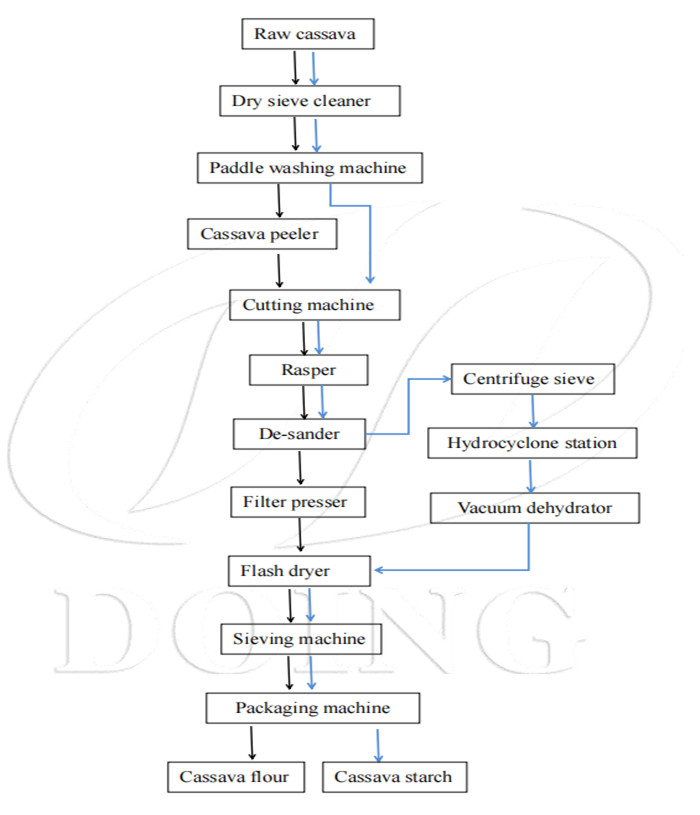 Flow chart of cassava flour and cassava starch processing machine
The sharing of production machines for different products can save investment costs, but it should be noted that if one common equipment is damaged, the entire production must be stopped. Therefore, the shared equipment has high requirements on the quality of the machine and strict requirements on the operation of the workers. As an experienced self-produced and self-sold tapioca processing machine manufacturer, Henan Doing adopts advanced technology at home and abroad to design and produce cassava equipment. The quality of our cassava processing equipment is guaranteed. You can contact us to watch the video of our customers' factory operation.
Guess what you want to see: Where can I get equipment quotations, equipment photos and running videos of cassava processing plant?