Doing Holdings - Henan Jinrui Food Engineering Co., Ltd Is a professional equipment manufacturer. The machines of Doing Company are exported to many countries and the craft unceasingly innovates. We are proud of the reputation we have gained for the quality of our innovative and reliable products and for the personal service that we give to all of our customers. The cassava flour milling machine is mainly to process cassava into flour.
What are cassava flour milling machines?
The cassava flour milling machine in Doing Holdings - Henan Jinrui includes:
Dry sieve
Paddle washing machine
Cassava cutting machine
Rasper
Plate-frame filter press
Flash dryer
Shifter sieve
Automatic packaging machine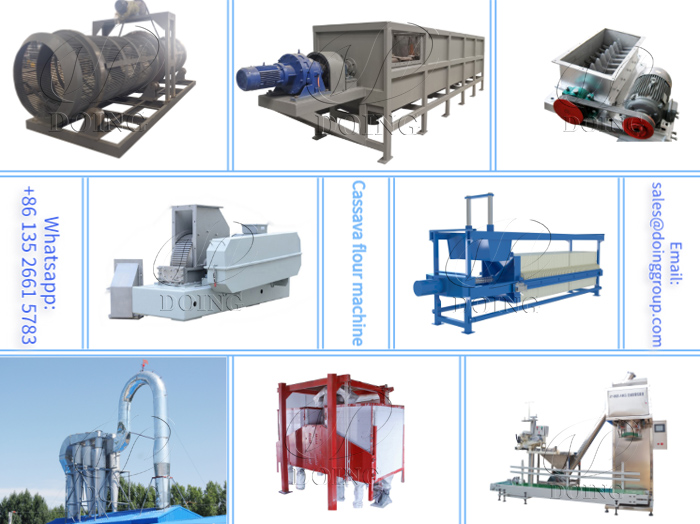 Cassava flour milling machine
And the cassava flour processing progress is cassava tubers - cleaning - washing - crushing - dewatering - drying - sieving - packaging. [ Read also: What is the cost of cassava flour processing machine? ]
The introduction of cassava flour milling machines:
1. Dry sieve
It is the first machine in cassava flour milling machine, which is used in the process of cleaning. Dry sieve is widely used to remove the dirt, sand, small stones, weeds and other large impurities attached to the cassava. It has the following advantages: simple structure, easy maintenance, and low power consumption.
2. Paddle washing machine
Its function is to wash cassava further and remove outer peels. Paddle washing machine adopts countercurrent washing principle. By the effect of paddle rotating, cassava flows in the converse direction against water current, which makes washing completely and eliminate sand and mud effectively.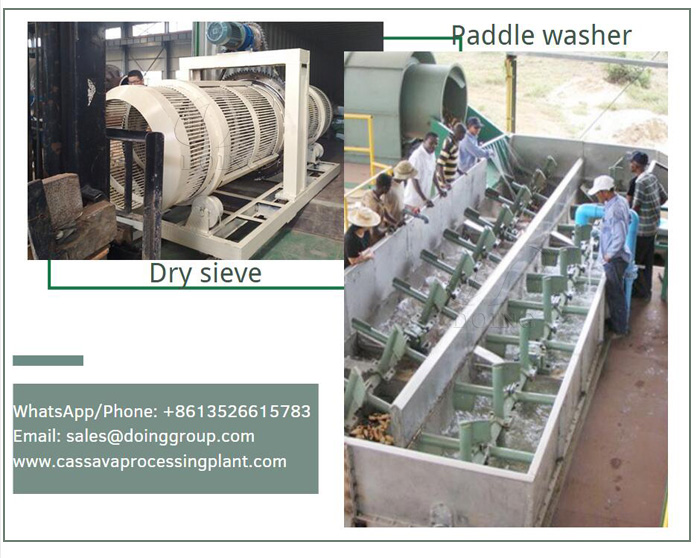 Dry sieve and paddle washer
3. Cassava cutting machine
It is used for pre-crushing of cassava. After cleaning, cassava should be cut into small pieces with the cassava cutting machine, which can not only reduce the pressure of rasper and prolong the life of machine, but also increase the extraction rate of cassava flour.
4. Rasper
It is widely used for crushing cassava pieces into slurry. This machine has a high rasping rate that the cassava pieces can be completely crushed. Also, it draws on advanced technology at home and abroad and adopts Sweden SKF bearing and Germany Optibelt.
5. Plate-frame filter press
Plate-frame filter press is a kind of effective dewatering equipment in cassava flour milling machine. Cassava slurry is transported into plate-frame filter press for dewatering. It can achieve automatic pressing, filtering, draining, squeezing, loosening and so on with a high degree of automation.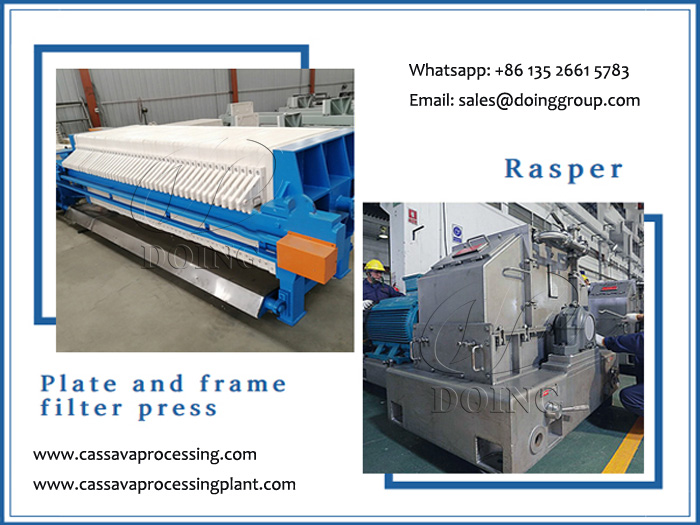 Rasper and plate-frame filter press
6. Flash dryer
Flash dryer is a machine used for cassava flour drying in cassava flour milling machine. Negative pressure in the whole system is adopted, which can effectively increase the loss of flour and purify the working environment.
7. Shifter sieve
Shifter sieve should be used to before packaging in order to separate different size particles.
8. Automatic packaging machine
This is installed to weigh and pack bags, with 1-5kg scale and 5-50kg scale adjustable. This cassava flour processing machine can greatly increase working efficiency and ensure packaging accuracy in weight tolerance.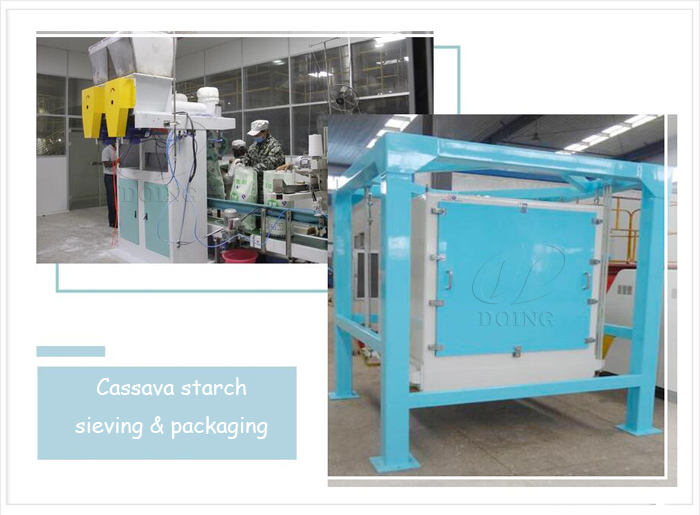 Shifter sieve and cassava flour packing machine
To sum up, these are all cassava flour milling machine. They are all automatic. Using the automatic cassava flour milling machine will undoubtedly maximize the production capacity of cassava flour and provide a higher quality of the final flour. Doing Holdings - Henan Jinrui can design different capacity of cassava flour milling machine according to your actual demands. Welcome to leave a message in the comment box below to get your own design proposal.