To set up garri production line, a set of garri processing machine is required in garri production line which includes cassava peeler machine - cassava grater - hydraulic press machine - garri fryer - garri sieving machine.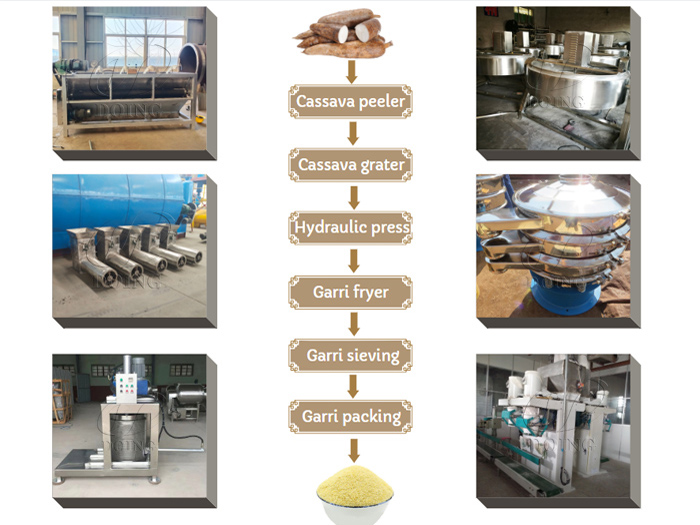 Machines are required to set up garri production line
1. Cassava peeler machine
Cassava peel, soil, sand and other debris can be washed away by cassava peeler machine. Cassava peeling is mainly to peel the gray-brown skin of the cassava tubers to expose the white/yellow flesh in garri production line.
2. Cassava grater
This machine is a key process in garri production line. The function of it is to destroy the composition of cassava which aims to extract grated cassava from raw cassava tubers and grate it into cassava mash and puree.
3. Hydraulic press machine
The hydraulic press machine comes with a 30 ton hydraulic jack that is higher than others. It can squeezes all the water out of the mashed cassava easily in garri production line.
4.Garri fryer machine
The garri fryer machine is with stainless steel drum, rotary conveyor and paddles fixed along the conveyor to a rotation in the same axis of the drum. It can process more garri in the same time and save labor compared to manual operation.
5.Garri sieving machine
The garri sieving machine can separate the fibre/lumps from the grated and pressed cassava before frying. By sieving, the purpose of separating and purifying starch is achieved in garri production line.
This is all machines are required to set up garri production line in DOING HOLDINGS. Except for providing garri processing machine, DOINGHoldings- HenanJinrui can also provide you with turn-key project service, which includes plant design, process design, machine design, machine manufacturing, installation, commissioning, and worker training. Welcome to contact us.