This video mainly shows the cassava flour processing machine designed by Henan Jinrui Company and the cassava flour production process. By watching this video,we can not only know more about what machines are needed in the cassava flour processing plant, but also get more detailed information about the cassava flour production process.
①Cassava flour processing machine
The processing machine used in the cassava flour processing line mainly includes: dry sieve, paddle washing machine, cutting machine, rasper, plate-frame filter press, hammer crusher,flash dryer and vibration sieve. This is an automatic processing line for high quality cassava flour production. And all of these cassava flour processing machines have the stable running, high performance, easy handling and low power consumption. In addition, all the parts which touch the cassava flour processing material are made of stainless steel, which will improve the cassava flour's fitness, quality and taste.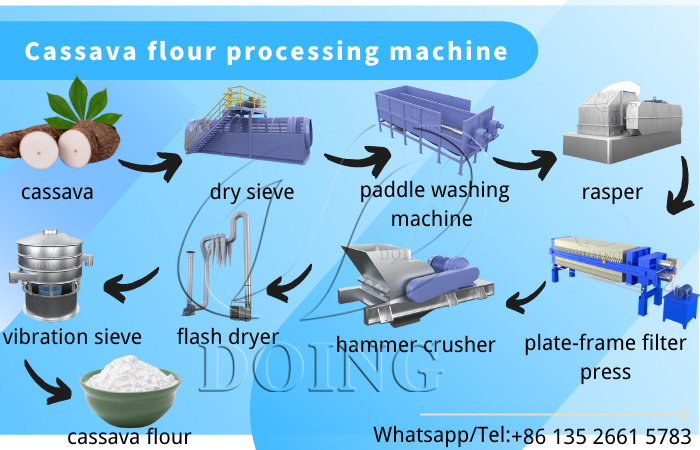 Cassava flour processing machine
②Cassava flour production process
The cassava flour processing line's production process mainly includes cleaning, washing, cutting, crushing, dewatering, drying and sieving. In cassava flour processing line, the cassava is firstly cleaned by dry sieve and washed by paddle washing machine so as to remove the impurities attached to cassava raw material. Then the cassava is cut by cutting machine and crushed into cassava slurry by rasper. Then the obtained cassava slurry need to be dehydrated into the wet cassava flour powder by plate-frame filter press. The wet cassava flour powder will be crushed into small pieces by hammer crusher and dried into cassava flour by flash dryer. After that, the cassava flour is sieved to meet higher standard by vibration sieve and be packed for storage or sell.
For more detailed information about cassava flour processing line or cassava flour processing machines, welcome to contact Henan jinrui Company for free quote. We can not only supply you the best cassava flour processing machine at factory price, but also offer you the cassava flour processing plant design, technical installation instruction, worker training, factory visiting activity, etc.