Are you looking for high quality cassava processing machines? If so, you can contact Henan Jinrui Company in China and visit their machining factory.
As a professional manufacturer and supplier, Henan Jinrui company can supply complete cassava processing machines for the cassava processing plant. We have rich experience in cassava processing and have installed projects in different African countries like Nigeria, Ghana, Liberia, Sierra Leon, Tanzania, Uganda, Zambia, DR Congo, etc.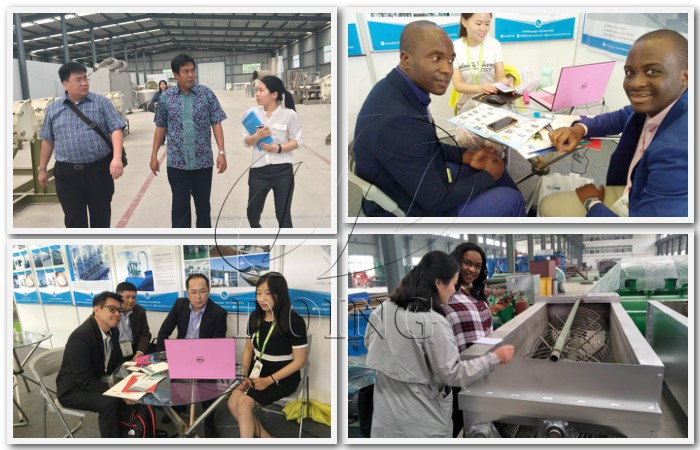 Customers visit factory of Henan Jinrui
Henan Jinrui company has a manufacturing workshop that occupies an area of more than 20,000sqm. And advanced machining tools, such as laser cutting machine, plasma cutting machine, steel bending machine, milling machine, welding machine, etc. are equipped to ensure high precision and high quality production of machines.
If you are interested in cassava processing machines, welcome to visit Henan Jinrui's factory any time. The factory of Henan Jinrui company is located in Wuzhi county, Jiaozuo City, Henan Province of China. You can take air or high-speed train to Zhengzhou city, and then we can arrange the car to pick you up and visit our factory. But considering the COVID situation, most clients have limitations for coming to China, so we can provide video visiting factory service. Our project manager will have a video call with the client to show around our office, factory workshop, machining tools, cassava processing machines, etc. What's more, we have a branch and oversea warehouse in Lagos Nigeria where we have some hot selling machines on sale. If the clients are in Nigeria, they can visit the warehouse and check the machines there directly.
Henan Jinrui company can provide a complete and mature solution to clients' requests. Cassava machines that we can provide include a garri processing line, cassava flour production line, fufu flour production line, cassava starch production line, cassava chipping line, etc.
Henan Jinrui Company has been into the fabrication of cassava processing machines. And we have exported machines to more than 90 countries and regions to help customers realize the cassava deep processing and get more profit. If you have an interest in embarking on the cassava processing business, welcome to contact us for more suggestions and machine details!