Tapioca chips can be used in ethanol production, livestock feed production and other industrial uses. More and more businessmen have found this big market and are planning to build factories to process tapioca chips for local use or export. So what do you need to know in advance before processing tapioca chips? The article will give a brief introduction.
1. Source of fresh tapioca tubers
The supply of fresh tapioca tubers is the most basic consideration before opening a factory. Although tapioca can be found everywhere in Africa, it needs a stable and sufficient supply of fresh tapioca to be put into industrial production.
2. Cost and profit analysis
You should do a feasibility study for setting up a tapioca chip factory. You should know the price per ton of raw tapioca, the price per ton of final final chips, labor cost, machine cost, construction cost, water and electricity cost, etc.
3. Learn about equipment and production
You should know what kind of equipment is required to produce tapioca chips. Henan Jinrui can provide dry sieve cleaning machine, paddle washing machine, belt conveyor, peeling machine, cassava chipping, etc. And we can give you equipment advice based on final use of tapioca chips and production capacity. Besides, we can also provide information about tapioca chips workshop size, people that needed for operating machines, total power and water consumption, etc.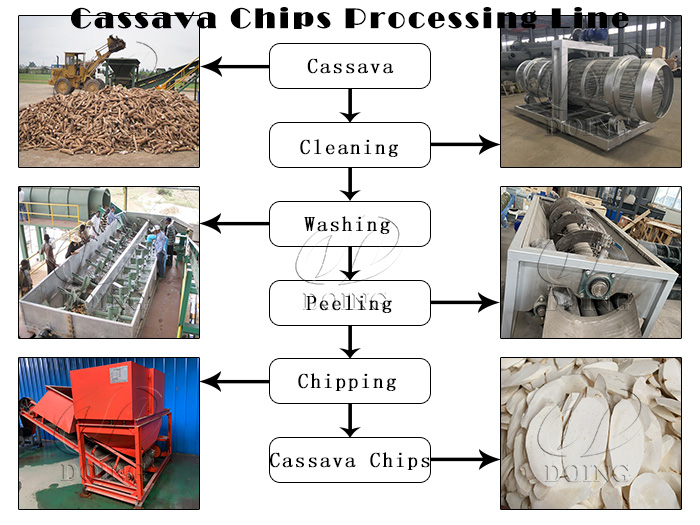 Tapioca chips processing equipment
4. Tapioca chips sales market
It is very important to find a buyer for the chip before starting the project. You can try to find buyers in terms of chip usage, especially those that make animal feed and ethanol.
5. Factory site selection
It is best to build a factory near the tapioca plantation, and the road is smooth to facilitate the transportation of goods to the finished product market. Also, water and electricity should be available.
Any tapioca processing business plan can find Henan Jinrui to help you analyze the feasibility and how to put it into practice.