With the increasing demand for cassava starch, industrial extraction method of processing cassava starch becomes more and more popular. It is high efficient and save a lot of labor. So do you want to know what is industrial extraction method of processing cassava starch? There is a video can clearly show the whole extraction process.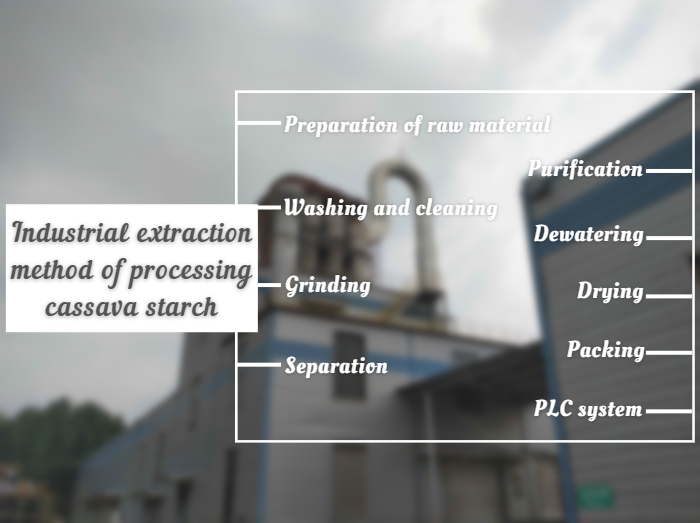 Industrial extraction method of processing cassava starch
Doing Holdings - Henan Jinrui adopts advanced starch wet processing technology to extract cassava starch. The sections of industrial extraction method to process cassava starch are mainly includes 9 sections:
◉ Preparation of raw material - Raw material supplying and weigh it.
◉ Washing and cleaning - Dry sieve is to remove impurities from harvest cassava tubers and paddle washer is to further remove mud, peel and other impurities from cassava tubers.
◉ Grinding - Cassava cutter machine is to cut cassava tubers into small pieces for further crushing. Rasper is to fully crush cassava into pulp at high-speed rotating.
◉ Separation - The larger fibers were removed by centrifuge sieve machine and the fine fibers are further removed by the fine fiber sieve machine.
◉ Purification - Hydrocyclone station machine is to wash, concentrate and refine starch slurry.
◉ Dewatering - Peeler centrifuge machine is to dewater starch milk.
◉ Drying - Flash dryer is to dry starch with the 10%-14% moisture content.
◉ Packing - The automatic cassava starch packing machine will pack the cassava starch in bags for sale.
◉ PLC system - It is highly automated. The whole cassava starch extraction process can be finished by the PLC automatic control system without putting into actual operation which can greatly reduce the labor demand.
There are a lot of advantages for industrial extraction method of processing cassava starch. If you want to make high quality cassava starch, please contact us to get more information.