How to realize the transformation of cassava to garri? Generally speaking, there are three sections: cleaning section, processing section, and drying sections. The flow chart is as below: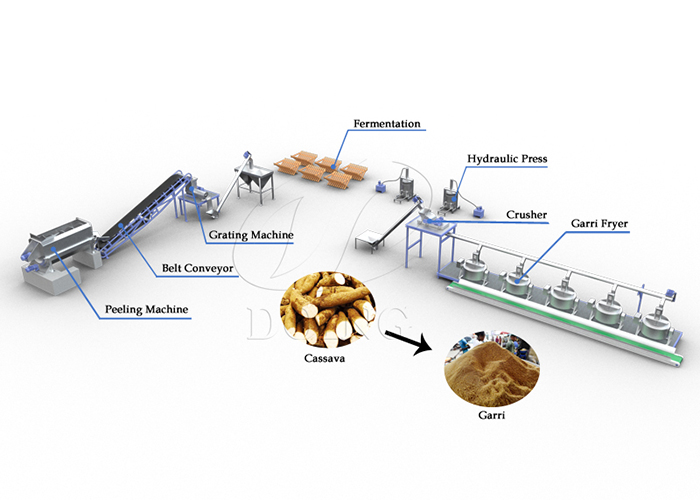 Flow chart of garri processing line
The cleaning section
Cleaning section is the first step of the transformation of cassava to garri, and the machines used here are a hopper, a dry sieve, and a paddle washing machine. The hopper will store raw materials temporarily, then the conveyor will transport cassava tuber into a dry sieve, which will remove the attached impurities on the surface of cassava tuber without water. And when entering the paddle washing machine, the primary cleaned cassava tubers will be washed. That is the cleaning section of the transformation of cassava to garri.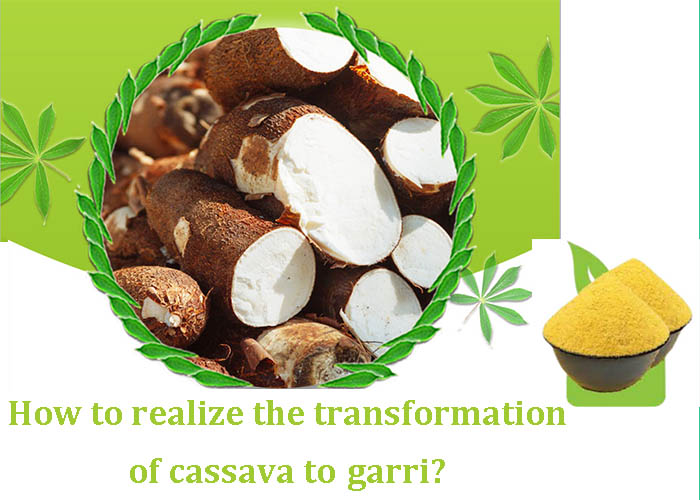 The transformation of cassava to garri
The processing section
The processing section is the most important one during the transformation of cassava to garri. You will see how the solid cassava tubers transform into powder garri. The machines used here are a peeling machine, a grater machine, and a hydraulic press machine. The poisonous cassava layers will be removed by the peeling machine to ensure food safety, and then the cassava grater will crush or grind peeled cassava tubers into paste or mush for the next processing part. The cassava paste then will be packed into the bags and put into the hydraulic press for dehydration. When the cassava paste enters the capacity, the hydraulic press begins to take effect by squeezing the excess water out of it. After this, the wet garri can be prepared for fermentation, which will last for 2-3 days.
The drying section
For the drying section, the machines used are a garri fryer, and a vibration sieve. The wet garri will be conveyed to the frying machine by a screw conveyor. With the one-button and automatic mixing design, you can easily get the dried garri. Besides, a vibration sieve is used to ensure that the powder can meet your fineness requirement. Then the qualified garri can be packed by a packing machine and be sold or used according to your needs.
This is a brief introduction to the transformation of cassava to garri. If you want to learn more details on cassava garri machines, warmly welcome to contact us!