Garri processing is ubiquitous in West Africa, in particular Nigeria. And garri processing business is also a popular business in local. Thus, demands in Nigeria for modern garri processing machine is strong. And garri frying machine can be regarded as the most popular garri processing machine in Nigeria. In garri processing machine manufacturing industry, there are many professional manufacturers of garri processing machine. But why is Henan Jinrui's garri frying machine do popular in Nigeria? Let's talk about it.
Strong market demand in Nigeria:
As I said above, there is a big market demand of Garri processing machine in Nigeria for its role as a necessity. Local market of garri processing machine is hard to meet the strong demand in local. Thus, some clients would like to import garri processing machine from foreign country as China. For instance, Henan (China) Jinrui company has customized many garri processing machines for clients in all size, ans also it has has sold its cassava processing machines to more than 35 countries and regions. With good quality and short processing time as well as professional manufacturing technology, garri processing machine as garri frying machine of Henan Jinrui Company is hot sale and popular in Nigeria.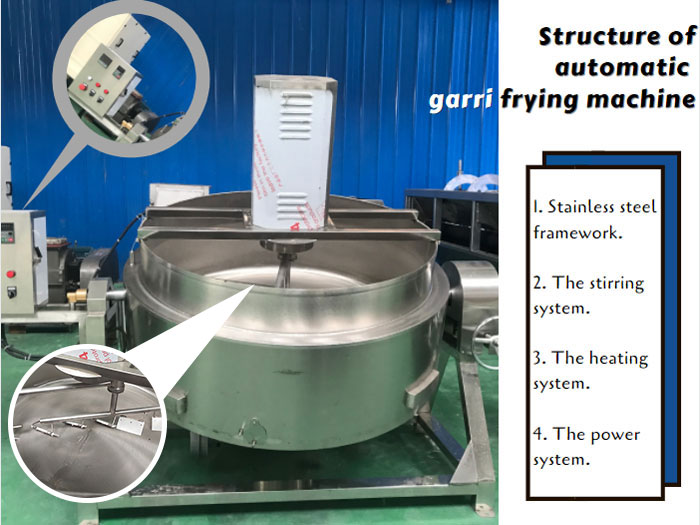 Garri frying machine
Quality of garri frying machine of Henan Jinrui company:
With advancement of life level in Nigeria, people has mentioned high demand to quality and safety of food, garri is no exception. Producer of garri in local can purchase cheap and semi-automatic garri frying machine, but with mild steel as raw material, quality and taste of garri can not be guaranteed. While Henan Jinrui's frying machine is fully made of food grade stainless 304, to ensuring long service life of the machine and also food safety. Furthermore, heating and stirring are totally operated automatically. Besides, in order to meet Nigeria people's requirement, the garri frying machine is specially designed by Henan Jinrui company's engineers and technological workers. The heating system of the garri frying machine can adopt three heating types: eletric, natural gas and diesel oil. That is to say, the garri processing machine can be heated by three different ways according to your local life condition.
Perfect after-sale service provided from Henan Jinrui company:
Besides, considering requirement of clients in Nigeria, Henan Jinrui has opened its abroad office and warehouse in Nigeria since 2019. So, it is convenient for clients who want to visit garri processing machine like garri frying machine, grater, hydraulic press machine etc, in Nigeria. It both save client's time and energy as well as air ticket. Taking a example to explain: one Nigerian client ordered one hydraulic press machine (cassava dewatering machine) directly from the overseas warehouse in logos, Nigeria. Our office there made a test-run of the hydraulic press machine and showed to the client. He was satisfied with the machine, and then send payment to us soon by TT. Obviously, quality, function and service provided from Henan Jinrui company are set up solid trust relationship between Henan Jinru company and local people. So, there is no doubt that Henan Jinrui' s garri frying machine is popular in Nigeria.
Apart from garri frying machine, Henan Jinrui company also customizes complete set of garri processing machine. If you wanna to join this lucrative business, just contact us. We freely provide you with professional solution of garri processing plant and its quotation.