Cassava is one of main crops in Africa. Now African government aim to decrease waste of cassava and encourage people invest in cassava production plant. Therefore, more and more investors are interested in cassava production and want to set up their own factory. Whether in local area or overseas countries, there are numerous suppliers who manufacture cassava equipment, so how to choose cassava processing machines manufacturer is very important. If you have difficulty in choosing suppliers, hope this article can give you some ideas for your reference.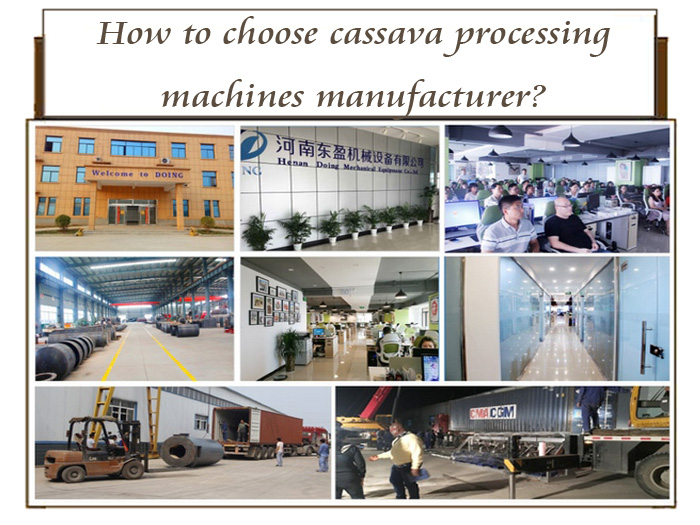 How to choose cassava processing machines manufacturer?
1. Considering the processing scale of the equipment manufacturer
Large scale factory has rich production experience and can fabricate high quality cassava processing machines. With advanced technology and perfect production technology, manufacturers can ensure the equipment quality and delivery time.
As a professional cassava processing machines manufacturer, Doing Company has more than 30 years of experience in the production of cassava deep processing equipment. We have our own factory, professional engineers team, professional welders and professional equipment manufacturing team, which guarantees the quality of the equipment and timely delivery.
2. Take the cassava processing technology into consideration
Cassava processing technology is the key point that can ensure high quality of finished products. For example, we adopts world latest wet processing technology in cassava flour production line, which do not need a cassava peeling machine. We all know that a peeling machine cannot reach 100% peeling rate, and it will cause waste. Our newest cassava flour processing technology process does not require a cassava peeling machine. We adopt the advanced raper to completely crush cassava, which not only improves the yield of cassava flour, but also ensures that the cassava flour produced is finer and better in quality. (Related reading: Newest cassava flour processing technology introduction)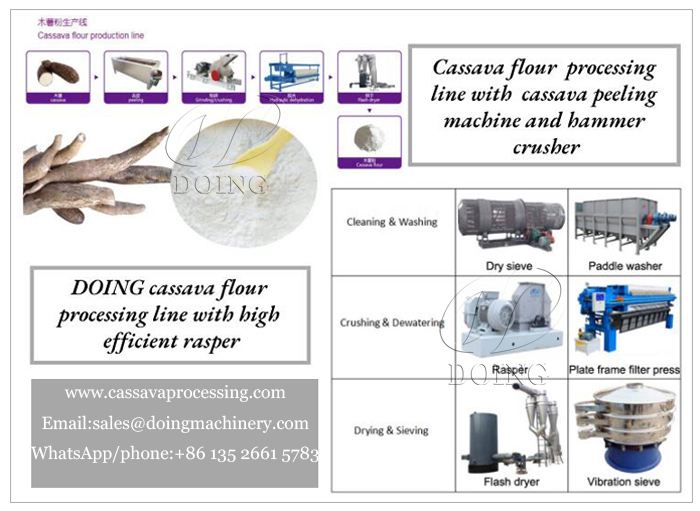 Different cassava processing technology
3. Pay attentation to the pre-sales, sales and after-sales service of manufacturers
Because the cassava processing project involves equipment installation, personnel operation, machine fault, maintenance and other issues in the production process, you need to choose a manufacturer with a complete service mechanism. Such cassava processing machines manufacturer can provide you with comprehensive service from equipment selection, factory design, installation, operators training, equipment testing running and maintenance service . More important is the after sales service. To overcome service problems like jet lag, communication, shortage of spare parts in local area.
Doing Company has complete service system can offer all the above service. What's more, our company has set up branch office and warehouse in Lagos, Nigeria, which can give greatest support and best after sale service for Nigerian even all African clients.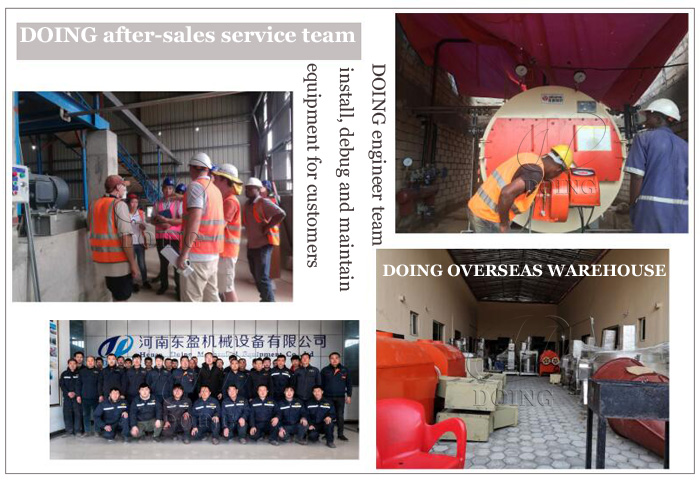 DOING engineer team and overseas ware
4. Refer to previous installed projects
This is very important for investors in new business. On the one hand, you can learn more experience from them, on the other hand, you can consult equipment status. For example, our cassava starch project in Indonesia, cassava flour project in Tanzania and garri processing plant in Nigeria can be introduced for your reference.
Above are some key points on how to choose cassava processing machines manufacturer. As a investor you should also consider about price, performance, etc. The more details you consider in the early stage, the smoother the work will be in the later period. If you are interested in our machines and want to know more about our company and projects, please contact us for further discussion.