It's reported that the global cassava processing market reached a volume of 298.8 million tons in 2020. The high yield of cassava promoted the development of cassava processing industry. As a professional cassava processing machine supplier, we'd like to detail the industrial uses of cassava so that the investors can better choose the investment direction of cassava processing plant.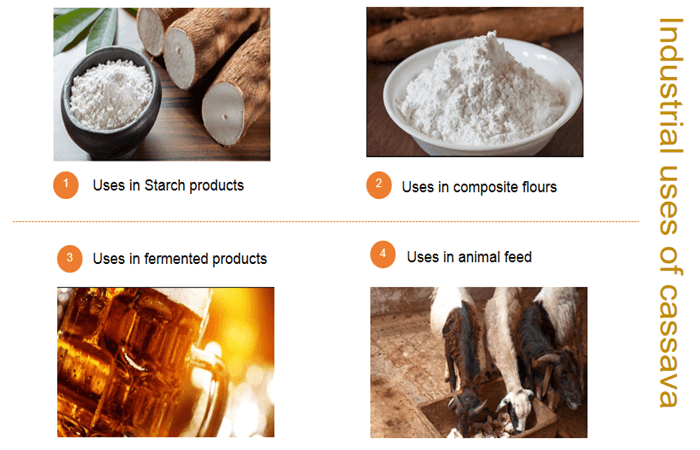 Cassava Industrial uses
①Cassava uses in starch products
Starch and starch products are used in many food and nonfood industries and as chemical raw materials for many other purposes, as in plastics and the tanning of leather. Nonfood use of starches - such as coating, sizings and adhesives - accounts for about 75 percent of the output of the commercial starch industry. Here is a table chart to show the detailed uses of cassava starch.
| | |
| --- | --- |
| Food industry | bakery products; confectioneries; canned fruits, jams and preserves; monosodium glutamate(MSG); commercial caramel. |
| Non-food industry | corrugated cardboard manufacture; wallpaper and other home uses, moistening gums,foundry; well drilling;paper industry; textile industry; wood furniture. |
| Glucose industry | starch hydrolysis;the production of dextrose. |
②Cassava uses in composite flours
In many developing countries bread consumption is continually expanding and there is increasing dependence on imported wheat. Most of these countries, however, grow cassava other than wheat that can be used for bread. In many countries, tapioca is used in everyday recipes such as cake baking and pancake cooking. It would therefore be economically advantageous for those countries if imports of wheat could be reduced or even eliminated and the demand for bread could be met by the use of domestically grown products instead of wheat. So the processing of cassava flour has been supported by national policies in some countries.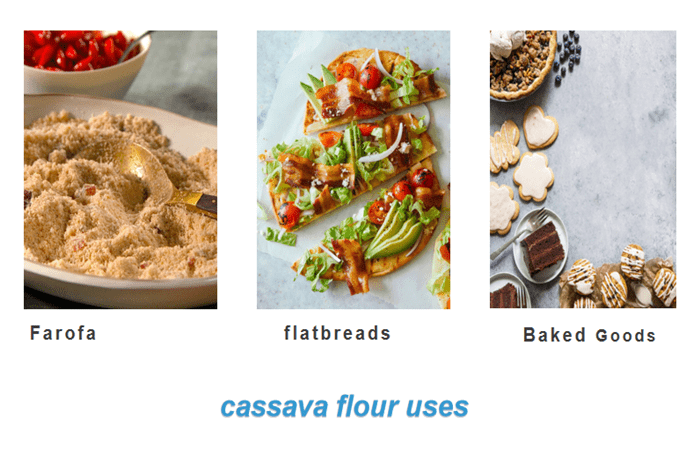 Cassava flour uses
③Cassava uses in fermented products
Cassava is one of the richest fermentable substances for the production of alcohol and fried yeast. The fresh roots contain about 30 percent starch and 5 percent sugars, and the dried roots contain about 80 percent fermentable substances which are equivalent to rice as a source of alcohol. Besides that, cassava roots are being used in Malaysia and some other countries for the production of yeasts for animal feed and bakery yeast.
④Cassava uses in animal feed
Cassava is widely used in most tropical areas for feeding pigs, cattle, sheep and poultry.Dried peels of cassava roots are fed to sheep and goats, and raw or boiled roots are mixed into a mash with protein concentrates such as maize, sorghum, groundnut or oil-palm kernel meals and mineral salts for livestock feeding.
Taking all the industrial uses of cassava into account,it is not difficult to see that cassava flour and cassava starch have a pivotal position in the industrial uses of cassava.If you want to increase your income by building cassava processing plant, you are welcome to contact Henan Jinrui Company. We can not only provide you good suggestions and designs for building a cassava processing plant,but also can offer you high quality cassava processing machine at factory price,factory visit activities,technical guidance about equipment installation and so on.