Garri is one of the main edible foods in Nigeria and is popular among people. Foreign countries outside Nigeria also import garri food for people from west Africa. It makes garri production be a very promising market. But for most people who has little experiences in the garri processing business, how can they get the easy way to start a garri factory in Nigeria? The article will give you a brief introduction and guidance.
The first is raw material.
You should make sure adequate supply of fresh cassava tubers. This is the basic requirement for starting a garri factory in Nigeria. It's may be good if you have your own farm land. Because it can help you reduce cost on purchasing tubers. But if you don't have a farm, you can connect with some cassava planting parks or organization of farmers, which can sign a contract with you to supply raw material during factory running.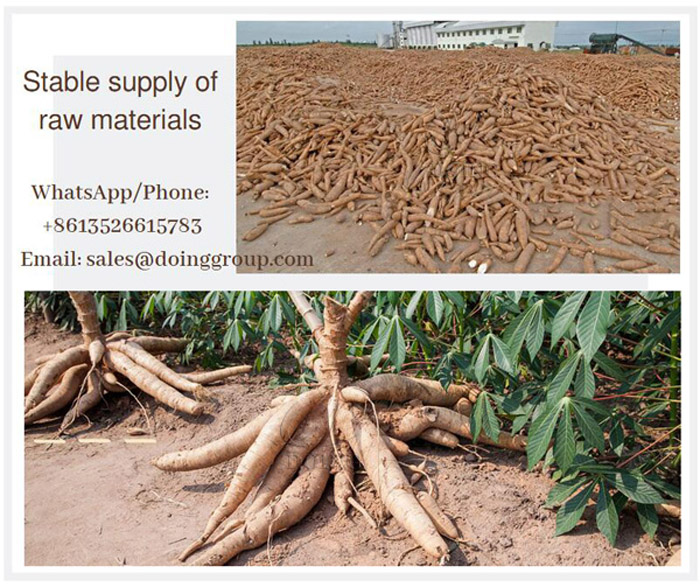 Adequate supply of fresh cassava tubers
The second is buying land for starting a garri processing factory.
The factory should be close to the raw material and convenient for transportation. Besides, it should have available water and electricity. For garri production in garri processing factory, the water is necessary in the process of washing and peeling. The sufficient water source ensures that the raw cassava materials are well cleaned which can improve the quality of final garri. For electricity, firstly you should figure out whether utility power is available and stable. Secondly you can consider to buy a diesel generator which can come in handy during a power shortage.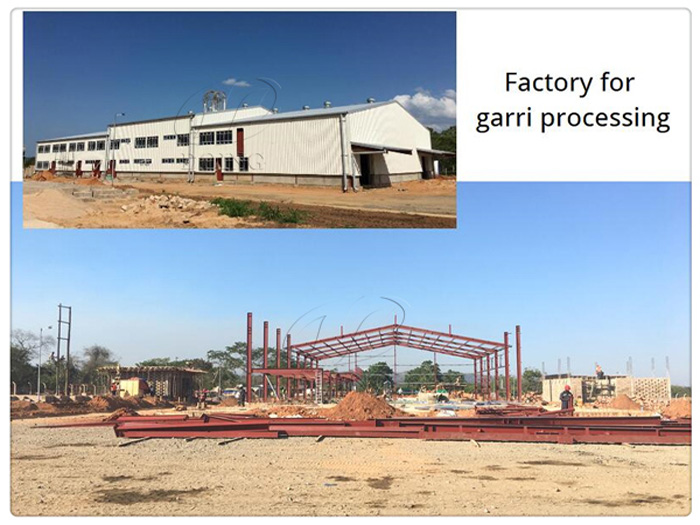 Land to start garri processing factory
Last but not least, you should purchase the garri machines involved in garri production.
The high quality garri processing machine will help to reduce the maintenance cost. Garri processing machine in DOING company is mainly includes dry sieve - paddle washer - cassava peeler - cassava grater - hydraulic pressure - garri fryer - garri sieving machine. [ Read also: What is complete garri processing machine? And what is the price? ]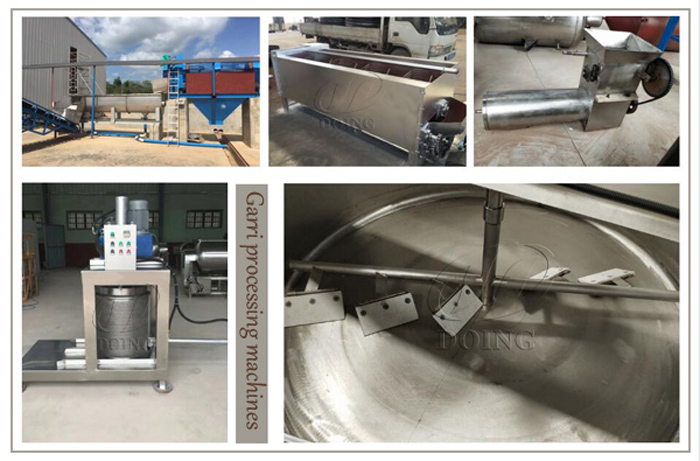 Garri processing machine
The production process of garri processing:
1. Cleaning and washing the cassava tubers
2. Cassava peeling
3. Grating cassava into mash/pulp
4. Put the cassava mash into bags or tanks for fermentation
5. Press to dewatering to get cassava mash cake
6. Breaking up the cakes and frying to get garri products
7. Garri sieving to get uniform fineness
8. Packing for sale
DOING company has already did some projects in Nigeria and other African countries. We can give you professional advice on how to start a garri factory and equipment selection in Nigeria. After you do research on raw material supply, you will get a first idea of daily garri processing capacity. We can give you advice on machines if your daily capacity is confirmed. Firstly the preliminary proposal will be provided for your reference. And then based on your financial budget and technical request, adjustment will be made accordingly. The business scope of DOING company includes early stage design, equipment manufacturing, transportation arrangement, on-site installation guidance, commissioning and training and other after-sales service.
After you buy garri processing machine from DOING Company, we also will send engineers to guide the installation till the garri processing machine running well. If you are interested to start a garri factory in Nigeria, please feel free to send your enquiry. You'll get more than you think.