Potato starch is obtained by washing, filtering and precipitating, and drying. And potato starch has certain economic benefits and nutritional value. Can the potato starch processing bring higher economic benefits to investors who want to invest in the potato starch processing industry? And is it promising? Next, Doing Holdings - Henan Jinrui will analyze the prospects of potato starch processing industry for you.
1. The characteristics of potato starch
Potato starch is a refined starch, containing minimal protein or fat. This gives the powder a clear white colour, and the cooked starch typical characteristics of neutral taste, good clarity, high binding strength, long texture, and minimal tendency to foaming or yellowing of the solution. It is an annual herb with edible tubers and is one of the four most important food crops in the world. Potato tubers contain a lot of starch, which can provide rich calories for the human body, and are rich in protein, amino acids, and a variety of vitamins and minerals. Especially, its vitamin content is one of the more complete in all food crops.

Potato and potato starch
2. Wide application of potato starch
Potato starch and its derivatives have unique characteristics and are made into additives, intensifiers, binders, etc., and are widely used in many fields such as the textile industry, paper industry, chemical industry, and building materials industry. In the pharmaceutical industry, potato can be used as a raw material for the production of yeast, a variety of enzymes, vitamins, and artificial blood; Potato starch can also be used with other grains to make nutritious and delicious food; In addition, the lactic acid and cyclodextrin produced and processed by potato can be used as a preservative in the food industry Additives, food additives, etc. It can be seen from this that potato starch processing industry has very high development value and broad market prospects.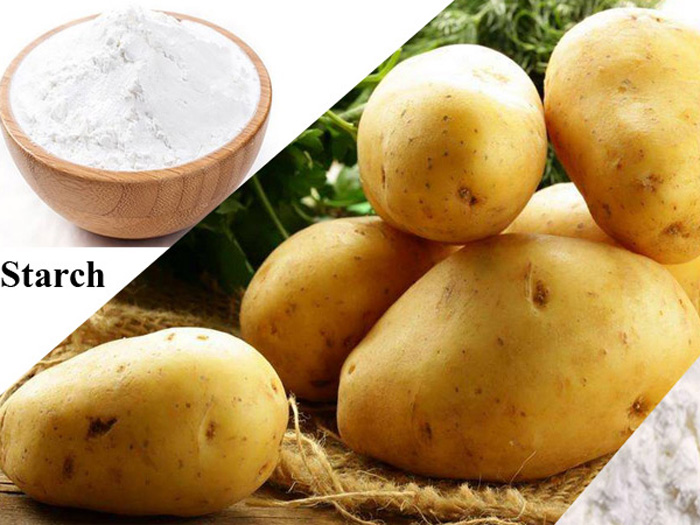 Potato starch
3. Market demand and price trend of potato starch
In recent years, the demand of the starch industry has driven the development of the potato starch industry, and people nowadays have promoted the concept of healthy eating. The rich nutrition contained in potato starch has been loved by people, and the domestic demand for potato starch has become increasingly strong. Potato starch uses include various ready-to-mix and eat products such as bakery products and dessert mixes. Demand is expected to rise as consumers have a positive inclination toward convenience food. Also consumers are giving more importance to natural and fresh food. They want chemical-free and natural products and ingredients. This gives a major opportunity to manufacturers in the potato starch industry to expand and introduce innovative products. In addition, the value of the global industrial starch market by 2022 is expected to reach 113.9 metric tons and 106.64 billion U.S. dollars. Therefore, the price of potato is on the rise.
From the above characteristics of potato starch, the wide application of potato starch, the market demand and price trend of potato starch, it can be seen that the potato starch processing industry has a bright future. If you want to start potato starch processing business, you can contact us. Doing Holdings - Henan Jinrui can provide high extraction of potato starch making machine for you which will contribute to your business.