Cassava fufu flour also called Lafun (white amala), which is made by fresh cassava tubers and eaten with soups like Ewedu, Okro soup and other delicious food. In Africa, cassava tubers is abundant, local people often process cassava to garri, cassava flour, cassava starch and fufu flour etc to meet daily consumption.
Cassava fufu flour contains much starch which benefits the digestive tract and reduces bloating and inflammation. It feeds good bacteria and aid good digestion. This is why cassava fufu flour is popular in local. So, today Henan Jinrui company introduce the process of making cassava fufu flour to you from the perspective of industry.
Cassava fufu flour processing is similar to cassava flour processing, except fermentation part. Fufu flour needs fermentation 2-3 days after peeling. Henan Jinrui Food Company with over 10 years cassava processing machine manufacturer experience, we recommend that process fufu flour by automatic machine and adopt fresh cassava tubers as material to achieve large-tonnage.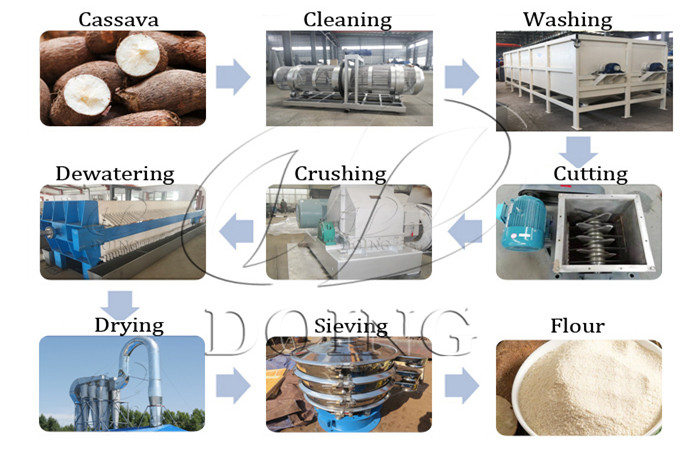 The processing steps about fufu flour processing
There are main processing steps about fufu flour processing:
1.Cleaning cassava tubers: paddle washer machine can achieve cleaning effect to satisfy next processing.
2.Peeling cassava tubers layers: sand roller design peeling machine to remove cassava 2 layers after friction between cassava tubers and sand roller.
3.Fermentation: after peeled cassava tubers, soaking the peeled tubers thoroughly for 48 hours. You also can cut cassava tubers to small pieces then fermentation.
4.Grating peeled cassava tubers to mash: grating machine or rasper mill to crush the peeled cassava tubers.
5.Dewatering: removing cassava mash moisture by hydraulic press machine or filter press machine.
6.Crushing: grating cassava cake by hammer mill to easy to drying.
7.Drying: flash dryer can dry the wet fufu flour, the moisture from 38%-40% to 14%, which is negative design to ensure no leaking phenomenon.
8.Sieving: vibration sieve can pick out bigger particle fufu flour to get high quality cassava fufu flour at last.
9.Packaging: packaging fufu flour to different size bags by package machine.
These are complete cassava fufu flour processing steps and its processing machines. If you have any idea to start process cassava fufu flour, you can send us message from Henan Jinrui company website, we are looking forward to getting your message.